For all of my American friends I thought I would post
some tips for photographing fireworks
before this rapidly approaching 4th of July. This is the time to dust off your trusty tripod and forget the flash.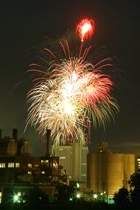 Also,
Photodoto
brings us this item about how to shoot fireworks displays. Read:
How to shoot fireworks
Lastly,
Digital Photography School
brings us
How to Photograph Fireworks
Make sure you're in a place where people will not constantly walk in front of you, and good luck and have fun!