PRESS SUMMARYNikon
is proud to announce "
D2x: The Grand Total
," a website dedicated solely to the advantages and superiority of the most advanced
professional digital SLR
on the market. The site will feature interviews and anecdotes from leading professional photographers in the United States, China, Europe and the United Kingdom. Images they've captured with the
D2x
will also be on display, along with each photographer explaining - in their own words - how they directly benefit from the D2x. The photographers include:
Tim Andrew (UK, Automotive)


Soenar Chamid (The Netherlands, Sports/Action)


Peter Frank (Germany, Beauty and Lifestyle)


Chase Jarvis (USA, Action/Lifestyle/Commercial)


Joe McNally (USA, Photojournalism)


David Mendelsohn (USA, Commercial/Experimental)


Foto Natura (The Netherlands, Nature/Wildlife)


John Shaw (USA, Nature/Landscape)


Erwin Windmüller (Switzerland, Fashion)


Steve Zhao (China, Fashion & Chinese Culture)
Like these professionals know, the D2x isn't just a series of separate features hastily wired together, but instead a single unit working as a whole, each function in harmony with every other. The D2x utilizes 12.4 megapixels, but, as these professionals explain, the performance goes well beyond the numbers.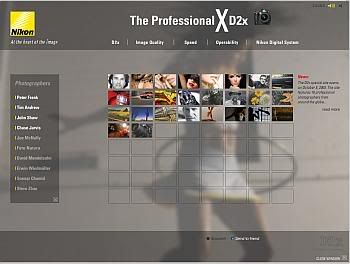 It all begins with a trinity of features dedicated to total image quality:DX-Format High-Resolution Sensor.
The D2x uses a high-resolution DX-format CMOS sensor with 12.4 effective megapixels, which can easily be enlarged into beautiful A3-sized images fine enough for commercial publication. This sensor provides a wide dynamic range, with four independent color channels to process reds, blues and greens individually, giving you greater speed, precision and tonal range.
Nikkor Lens
Professionals know that Nikkor lenses are the best in the business, and Nikon respects your investment: your collection of Nikkor lenses will not go to waste, since they will now work together with the amazing potential of a high-resolution sensor. The DX-format sensor achieves optimum quality by using the clearest part of the Nikkor lens: the center. That means image resolution will be clean and sharp from edge to edge, as well as free from the dark, blurry areas.
Nikon's Proprietary Image Processing Engine
The
Nikon
processing engine remains faithful to the subject, not the output device. The D2x offers accurate color across the entire range. Like film, you'll find smooth gradation, excellent tonal balance and incredible detail — clean and sharp throughout the entire image.
Professionals realize the power and potential of the D2x, and "The Grand Total" website will serve as a place for professionals to share their thoughts and stories on the best digital SLR on the market.