A brand new website debuts today focusing exclusively on "Everything SLR" for Professionals and Advanced Amateur photographers. Imaging-Resource has launched
SLRGear.com
to help you choose from the wide array of lenses and accessories available from both camera manufacturers and third party lens and accessory makers.
PRESS SUMMARY
Imaging-resource launches new SLRGear.com website - digital camera and photography newsNew Brand-Neutral Website Debuts Today Focusing Exclusively on "Everything SLR" for Photo Pros and Advanced Amateurs
Single Lens Reflex camera users – whether their shooting preference is analog, digital or both – now have a powerful new tool for making their all-important lens choices. www.SLRgear.com ™ went live to the general public at 7:00 AM today (EDT), offering unprecedented lens performance information in an intuitive, easy-to-understand format. Developed by the staff of Imaging-Resource.com™ -- one of the Internet's original and preeminent digital photo websites – this new SLR-oriented site uses advanced testing technology to uncover details of lens performance critical to picture taking, but that are missed or glossed-over by conventional techniques.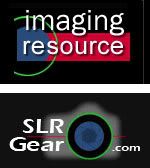 "For the serious photographer lenses are among their most important and potentially pricey picture-taking tools. Previously, even these knowledgeable consumers had only the most general information about lens performance to guide their purchase decisions. Now, with www.SLRgear.com's comprehensive and interactive testing technology and software, they can assess an individual lens performance with a degree of accuracy, quality and clarity never before available," states Dave Etchells, founder of both SLRgear.com and Imaging-Resource.com.
Noteworthy among SLRgear.com's cutting-edge content and lens testing tools is the same technology from DxO Labs (www.dxo.com) used by many manufacturers to check their own lenses. The DxO analyzer software crunches literally billions of calculations to determine for example, where a lens' sweet spot is and where that lens has trouble. SLRgear.com's own software then turns those numbers into 2-D and 3-D graphs, making it easier for a user to see what happens to a lens as its focal length and aperture are varied.
"Beyond our own objective, strictly brand-neutral testing, SLRgear.com is a place where SLR users, regardless of expertise, can share their experiences with equipment, exchange tips, share their love of photography, and ultimately learn about all things SLR. Our combination of in-depth testing and hands-on, real-world reports is literally without precedent in the photo community."
"Digital SLRs have finally achieved the quality, capability and affordability of their film-based predecessors and literally millions of photo hobbyists are flocking back to the SLR format. www.SLRgear.com is here to welcome them back."