It is not digital photography but a must see event if you are in London over the next couple of months.
The Victoria and Albert museum is hosting A Diane Arbus Revelations exhibition until the 15th January. More than just a display of photographs there are contact sheets, cameras, letters, notebooks and other personal effects on display.
Diane Arbus is classed as a pivotal figure in contemporary documentary photography, her stark and direct images of people on the fringes of society caused a storm before she commited suicide in 1971.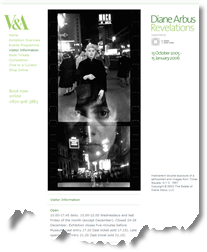 Entry to the exhibition is £8.
Incidently the museum runs a series of workshops. You can borrow a digital camera and have an image of a museum exhibit placed on a key ring or for those with learning difficulties or for visually impaired people have an image taken placed on a t-shirt. Such events are free.
via
The Digital Photography Weblog