I recently got my hands on a copy of the newest version of ACDSee (version 8). I spent some time with it and here are my first impressions of it.
Installation went smoothly and it found and upgraded my version 7 database flawlessly. This step does take some time to run, depending on the size of your photo collection, but it churned away for about 5 minutes doing all the things it needed to to add new functionality. A re-boot was required.
A new start-up screen provides an overview of features to help new users get started quickly. If you want to get up to speed quickly, they give you the opportunity right up front.
The next thing I noticed is how clean and modern this version looks. It looks and feels great and is well thought out. Those familiar with earlier versions will feel right at home. A Task Pane along the right side provides easy access to common features, so you don't have to search through the menus. There's a lot of functionality right there in front of you easily access through the logical layout.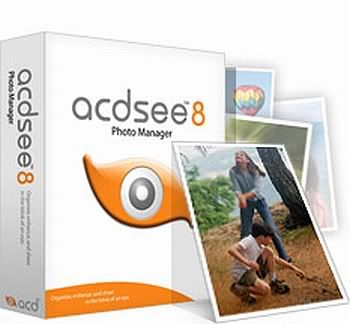 ACDSee 8 Photo Manager
I can also do a lot more with my photos without having to use external tools. You can now-
Fix red-eye with a single click (I just was able to fix a red-eye problem in under 15 seconds).


Automatically crop your selections after custom angle rotations (nice to have feature).


Crop a selection from the Edit menu in the Viewer.


Access handy exposure warnings in the Viewer.


Use the new shortcut toolbar in the Viewer to instantly access photo editing tools.


Easily access zooming tools while viewing and editing images.


Choose from 27 new filters and effects (I'll need to explore these).
There are a few steps I always perfrom on my digital images, usually a levels adjustment, maybe a saturation tweak, and finally some USM (un-sharp mask). I can now perform all of this right in ACDSee without launching Photoshop or PSP. And I can trust what is being done because I have control over the process. This is going to save me countless hours of time.
There are added batch processing features too. I can control EXIF information for large numbers of photos in a batch (like placing my copyright info in there).
Real enthusiasts can take advantage of fully integrated support for IPTC metadata, including Captions, Keywords, Categories, Credit, Origin and others. IPTC is used for standard newswire images and allows you to add keywords to your photos. This tool is designed for serious users too.
ACDSee 8 Photo Manager is all-in-all a very slick package. It does what it's supposed to, quickly and robustly. You can
download ACDSee 8 Photo Manager
here.
*Note-while I was supplied a free copy of ACDSee for the purposes of writing a review on it, I was free to express my own independant opinions of it. I have been a user and a fan of ACDSee since version5.