Don't miss the First Look Review of the
Sony Cyber-shot DSC-T5
Digital Camera at The Imaging Resource
The all new
Sony Cybershot DSC-T5
will be available in four colors - red, champagne gold, silver and black - and sports a five megapixel imager and prism-folded 3x optical zoom lens protected by a sliding lens barrier. Other features include a large 2.5" LCD display, built-in four-mode flash, 32MB of built-in memory, Memory Stick Duo / PRO Duo storage slot, and USB 2.0 high-speed connectivity.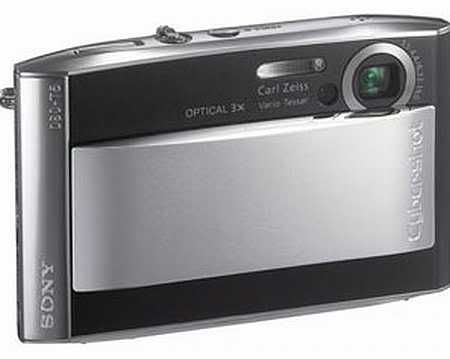 Sony Cybershot DSC-T5
Here's what the The Imaging Resource concluded-
"Sony's Cyber-shot line of digital cameras has consistently proven itself to be versatile and excellent in quality, providing constant innovation in the digital camera marketplace. The DSC-T5 offers yet another exciting digicam option, with its tiny size and wealth of features. I love the return of the big sliding lens cover, something the T33 lacks; but it's not quite a slick as the T1's slider in either feel or appearance . The 5.1-megapixel CCD is an outstanding feature in a camera this small, and the large LCD monitor is impressive as well. The DSC-T5 shows good image quality, with good color, and high resolution. Its image sharpness and noise levels aren't quite up to the level of the best full-sized 5-megapixel cameras out there, but they're good for a subcompact model. We did find that the lens quality was better than the T33 we reviewed. Relative to competing full-sized digicams the T5 does have limited low-light capability and limited flash power, but that's expected in a camera of this size. The DSC-T5's flexible exposure modes and features make the camera able to handle just about any situation. The camera's light weight and portable size are perfect for travel. Though we haven't seen much change from the T1 to the T5, it's still a very impressive camera in a very small package."