Sony has announced the Cyber-shot DSC-M2, featuring 5.1 Mp resolution and a high quality MPEG-4 movie mode in a stylish, ergonomically designed camera designed to be used with one hand. The M2 combines great quality photography, thanks to the Super HAD CCD a large and bright 2.5 inch Hybrid LCD screen, Carl Zeiss Vario-Tessar folded-path 3x Optical Zoom lens.
PRESS SUMMARY
Sony announces the new 2-in-1 Cyber-Shot M2 - digital camera and photography newsQuality still pictures, movie footage and fun playback opportunities - in one stylish device
Berlin, 13 September 2005
- The Sony Cyber-shot M2 features 5.1 effective Megapixel resolution and a high quality movie mode (MPEG-4 recording) in a stylish, ergonomically designed camera. The Cyber-shot M2 combines the best of both worlds: great quality photography is guaranteed, thanks to the 5.1 effective Megapixel Super HAD CCD a large and bright 2.5 inch Hybrid LCD screen, Carl Zeiss Vario-Tessar folded-path 3x Optical Zoom lens. In addition, the same device gives you casual movie-shooting capabilities, allowing you to capture up to 50 minutes of good quality footage on a Memory Stick PRO Duo™ with one charge of the supplied InfoLITHIUM battery. Or why not choose the '5 Sec Rec' mode for a fresh style of snappy movie making.
Now you can have it all...
The Sony Cyber-shot M2 is the perfect futuristic accessory to impress your friends. With a press of a button, the camera can switch between photo and movie modes depending upon which will best capture the mood. Unique to Sony, the Cyber-shot M2 features the Pocket Album and Slide Show plus Movie functions for effortless and fun playback on the generously sized 2.5 inch Hybrid LCD screen. Moreover the large screen allows you to frame the shot in any light conditions, including direct sunlight. The camera uses Sony's Real Imaging Processor, which enables it to capture pictures quickly so you'll never miss the moment.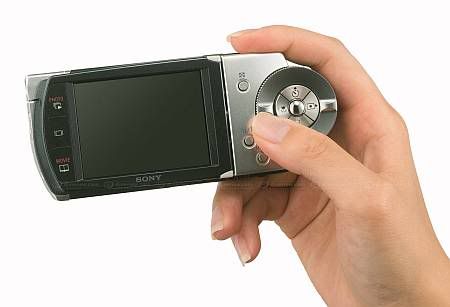 Style in the palm of your hand
The ergonomically designed one-handed grip sits neatly in the palm of your hand, and the slightly tilted lens axis on the Cyber-shot M2 allows you to hold and shoot with a natural wrist position. The camera automatically switches into photo mode as soon as you flip up the large LCD screen.
The control layout has been designed with ease of operation in mind. For example, the Photo and Movie buttons are arranged in a horizontal line, within easy reach of your thumb. The shuttle control feature on the back of the device allows you to easily scan forwards and backwards through your movie footage and photography to reach the scene you really want to view.
The aluminium body has a special finish to create a luxurious and classic satin metallic look and feel. Equally impressive on holiday, at an evening party or a family barbecue, the Cyber-shot M2 always exudes style.
View and share pictures, wherever, whenever
Imagine how heavy a photo album carrying 1,100 of your favourite photos might be! The new Pocket Album feature from Sony allows you to carry and view up to that much of your favourite still photos on the camera's LCD screen. A separate, internal memory is dedicated to holding your pictures in VGA size, which means you view them whenever you want. The internal Pocket Album in the Cyber-shot M2 is a great way to share with friends and tell a story. In addition to the LCD screen, images can be viewed on TV screen. When the maximum capacity is reached, the oldest images are automatically deleted to make space for new ones (individual images can be protected from deletion). Of course, images are also stored in full high resolution on optional Memory Stick PRO Duo™ for you to save on a PC or print out.
Truly dynamic slide shows
In addition, the Cyber-shot M2 features a Slide Show plus Movie function for a truly rich slide show experience. It brings your pictures and five second movies to life by playing them back in a variety of slide show styles: select from 'Active', 'Simple', 'Stylish' and 'Nostalgic' modes and your pictures and five second movies will be shown at random accompanied by a choice of four pre-set background music melodies to complement the mood. You can even add background music of you own choice using the supplied Picture Package software. You can select the Music Transfer function to add your own music (MP3 or CD music) to the camera's internal memory to further personalise your slide shows. To make the very best of your memories, the camera goes one step further, blending and zooming in and out on images for a truly dynamic, movie-like slide show. You don't even have to wait to get home to enjoy this great feature-just switch to Slide Show plus Movie mode and the camera does the rest! There is also a 'Normal' function for playback without mood music.
Pictures in context
The Hybrid REC mode gives your pictures real context on the Cyber-shot M2. By simply pressing the PHOTO button while filming in Hybrid REC mode, the camera will automatically record the five seconds before the still picture and three seconds after the still picture. It's truly a unique way to capture the atmosphere surrounding the moment. In this mode the movies are stored as 15 fps at QVGA size (320x240).
Stereo sound
The Cyber-shot M2 even features a stereo microphone, a first for a Sony digital camera, and great for playback on a stereo TV. The built-in mono speaker incorporates an ALC (Auto Level Control) circuit, this combined with the Class D amplifier, allows surprisingly loud sound playback without distortion and also ensures low power consumption.
Greater Appeal
The Cyber-shot M2 also features PictBridge, the standard for printing directly to photo printers, such as the Sony DPP-FP50. The supplied Cyber-shot Station makes charging and connecting to a PC, printer or TV even simpler.
The Cyber-shot M2 will ship throughout Europe during November 2005.