Designed in line with the same basic development concept as all other PENTAX digital cameras of having excellent portability and ease of use, the 5.0 megapixel
Optio SVi
delivers a powerfully high zoom ratio and achieves outstanding image quality in an ultra-compact, lightweight package. It is a perfect pocket companion for photography enthusiasts, intermediate photographers and advanced beginners.
Trusted Reviews
have just posted their review of the Pentax SVi and I quote-
"An excellent photographer's camera at a very reasonable price – the SVi has a lot of creative versatility and the image quality to back it up. Superb build quality, nice handling and an attractive design make it an outstanding all-round camera, especially for the more ambitious photographer or newcomer who wants a camera that will let them learn. Very slow start-up, sluggish performance and slow autofocus system are handicaps however."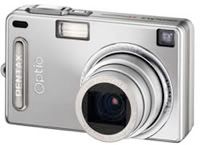 Pentax Optio SVi
Read the full
Pentax Optio SVi Review
here.