The
PENTAX Optio S45
is a compact digital camera featuring 4.0 megapixels, an SMC Pentax Sliding Lens 3x optical zoom, an all-metal body, and a large 2.5 inch LCD monitor. With the large monitor that simplifies composition and playback, the Optio S45 is well suited to any user. There's no doubt the S45 is an attractive camera, and thanks to the sandblasted matt metal finish it will stay looking good for a long time. Pentax build quality has always been good and the S45 is certainly no exception. The Optio S45 will be available in limited distribution for under $230 US.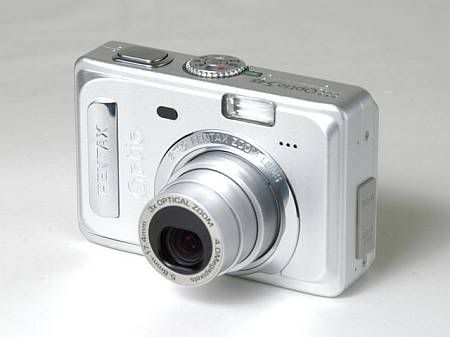 Pentax Optio S45
The
Pentax Optio S55
is a compact camera that packs a 5 megapixel imager and a 3X optical zoom lens in a sleek aluminum design. It featuring a smc Pentax lens coupled with their Sliding Lens system that allows the lens to fully retract inside the camera when it is turned off. Equipped with PictBridge technology, the S55 connects directly to any PictBridge compatible printer so you can print images without the use of a personal computer.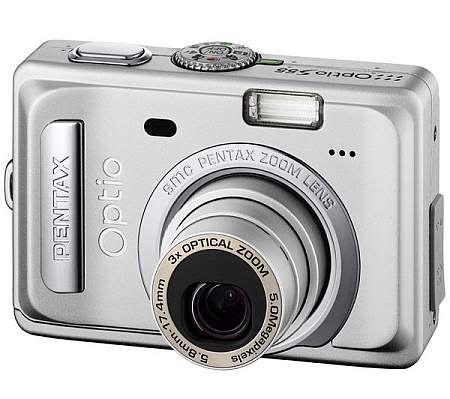 Pentax Optio S55
DigiCamReview.co.uk have compared these two cameras and posted their
Pentax Optio S45 S55 - Digital Camera Review
.
"Image quality is good, the images have saturated colour, good contrast and good detail - however there is some purple fringing, and some images were quite soft. Images tend to come out of the camera looking very good. The camera did a good job focusing the majority of the time, only slightly struggling in low light. Noise was well controlled and low upto ISO200 but at ISO400 resulted in slight loss of detail. I did not notice vignetting in photos. There is a good range of image sizes and a good choice of compression options. The macro mode is good, allowing you to be as close as 6cm away from the subject, this provides good detail. Auto white balance and metering seemed to be very good, the custom white balance helping in trickier situations. Red-eye was noticable. The movie mode is good, but nothing spectacular, at 320 x 240 / 30fps with sound.
...
The Pentax Optio S45 and S55 are both good all round digital cameras - easy to fit into pockets, full of features to suit all level of photographer. The cameras take AA batteries, and have a metal body so would make a great travel camera. The easy to use camera is capable of good results, although there is some purple fringing and images are slightly soft. The super macro mode is good. Both cameras are very good value for money at around £110 for the S45, and £165 for the S55. I would recommend this camera to someone looking for a versatile, highly pocketable digital camera. If you were to choose between the two, my preference would be towards the 4 megapixel Optio S45 which will produce photos capable of being printed at upto A4 and offers excellent value for money - for slightly more detail then I'd recommend the Optio S55."
Generally, these cameras offer:
Good photo quality


Custom White Balance


Manual Focus


Excellent value for money fully featured compact digital cameras


Contrast / Saturation / Sharpness controls (this should be standard on all digital cameras!)


Audio recording (I'd like it if this was standard on all P&S digital cameras)


Takes AA batteries


Very compact


Low noise upto ISO200