The
Olympus EVOLT E-500
is a full-featured, 8-megapixel digital SLR camera that was designed to be used easily by photographers of any skill level. Looks lhe E-500 has many of the same features as the E-300 but it has as more traditional (YAY!) body, a larger LCD display, new noise reduction software, and much more. The EVOLT E-500 is their third camera in their Four-thirds system, this camera could be their finest offering yet.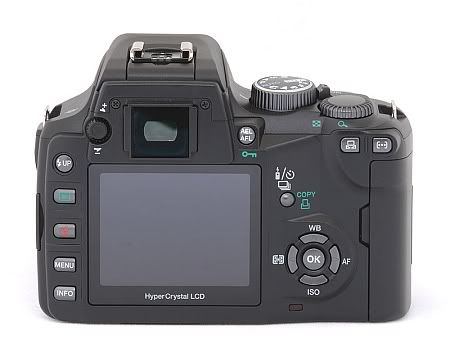 Steve's Digicams have an
Olympus EVOLT E-500 User Report
available. It's only a preview at this point in time keep in mind-
"Everybody can shoot like a pro with the E-500. Select from one of the 25 Exposure Modes (Easy, Basic and Creative) that make it easy to get the results you want. The 15 pre-programmed Scene Select modes to achieve the optimal results for: Night Scenes, Fireworks, Sunsets, Beach and Snow, Children, Landscape, and more. Every Scene Select mode provides a sample image and a description of what is happening to achieve the desired result. For example, choosing the Landscape setting reveals a sample of a landscape photo, and a text description of what the mode is displayed on the large, easy-to-read 2.5-inch LCD. The Creative Modes allow users to take more control of the E-500 for the ultimate in artistic expression. For example, Aperture Priority, Shutter Priority and Manual Modes allow users to tweak all of the camera's settings just the way they want for any situation at hand."
EVOLT E-500 Features
* High performance Kodak 8-Megapixel Progressive Scan CCD imager
* Super Sonic Wave Filter for CCD dust protection
* Four-Thirds System lens mount for Zuiko Digital Specific lenses
* Program Auto, Aperture Priority, Shutter Priority, Manual and 21 Scene modes
* sRGB and Adobe RGB color space plus three color modes (Vivid, Neutral, and Muted) in each color space based on the image use/output.
* JPEG, TIFF and RAW file formats
* Simultaneous capture of RAW + JPEG files
* Metering modes: 49 point ESP, Center weighted, Spot (2%), Spot High Light and Spot Shadow
* Exposure compensation ±5 steps EV in 1, 1/2 or 1/3 steps
* 3-point (selectable) TTL Auto Focus
* 2.5" HyperCrystal LCD monitor with 160° viewing angle
* Auto popup multi-mode intelligent flash
* Hot shoe for E System TTL flash units (FL20, FL36, FL50)
* Capture 2.5fps up to 4 frames in SHQ
* Capture 2.5fps in HQ or SQ up to the capacity of high speed CF card
* Auto Exposure, Flash and White Balance bracketing
* ISO range 100-400 with boost to 1600
* RGB histogram display for accurate color information per channel including overall luminance
* Next Generation TruePic Technology with advanced noise reduction
* 5-level Sharpening, Contrast and Saturation controls
* B/W and duo tone modes with four contrast-enhancing filters (Yellow, Orange, Red, and Green)
* USB connectivity and PictBridge direct-print compatible
* xD-Picture Card and CompactFlash I/II/Microdrive storage
* High capacity Li-ion rechargeable battery and charger
* Compatible with all Olympus E-System lenses and accessories
Accessories
Tamrac 5273 Expedition 3 SLR Photo Backpack (Forest Green)?
SLIK U212 DLX Heavy Duty Tripod
Olympus FL-20 Electronic Flash for SP series, C5000, C750, C770, C5060, C7070, C8080, E1, E300 & E500 Digital Cameras
Olympus FL-50 Electronic Flash for Olympus C7070, E1, E300 & E500 Digital SLR Cameras
Olympus 14-54mm f/2.8-3.5 Zuiko ED Digital SLR Lens for E1, E300 & E500 Cameras
Related Items