Announcing the
Olympus C-315 Z
. It was only February that Olympus announced the camera this one is replacing. Talk about short life-spans. The new Olympus C-315Z boasts the same special blend of design, performance, handling and affordability. It's resolution has also been increased to 5.1 million pixels to provide exceptional picture quality but what won't be changing is the camera's great value for money.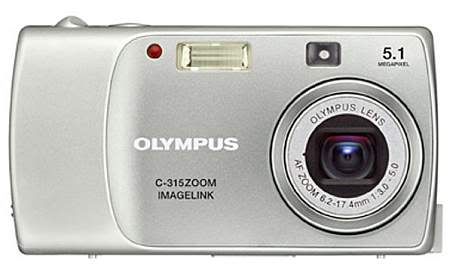 Olympus C-315Z – main features:
* 5.1 million pixels
* 2.8x optical zoom (equiv. 38-106mm on a 35mm camera), 1:3.0-5.0
* Super Macro mode: shooting from as close as 2cm
* 5 scene programmes (Portrait, Self Portrait, Night Scene, Landscape, Landscape with Portrait)
* Movie recording function
* TruePic TURBO image processor
* PictBridge & ImageLink support
* 4.6cm/1.8" LCD with multi-language menu
* Olympus Master software for easy file handling and editing provided
The C-315Z is designed to make digital photography accessible and affordable for ambitious beginners. Its predecessor's winning combination of ease-of-use and high-quality has now been crowned with the additional advantage of 5.1 million pixels, enabling large print-outs and detailed image cropping.
Available from the end of July, the Olympus C-315Z comes highly recommended for first-time digital camera buyers and all those who are budget conscious yet still demand high-quality results.