The
Nikon D70S
is the replacement of the
D70
and you might ask, if it aint broke, why fix it? Well, Nikon has basically tweaked the D70 and produced an even better digital SLR than the wildly successful D70.
The most significant changes are:
The Nikon D70s has a refined 5-area autofocus system now has an all-area search priority to go along with the camera's single area, dynamic area, and close subject priorities, improving the camera's ability to acquire focus on fast moving subjects within the frame.
The Nikon D70s now boasts a larger 2.0" LCD monitor, making it easier for users to review images and access menus.
A new remote port for the Nikon MC-DC1 electronic cable release (optional) allows users to trigger the camera and hold the shutter open via an electronic cable release
A built-in Speedlight with a wider angle of coverage, supports 18mm lenses.
A new easier-to-read menu design in the Nikon D70s uses color-coded menus, and a larger type-face.
A higher capacity EN-EL3a battery offers users more pictures per charge. The EN-EL3a battery comes with a new, smaller MH-18a battery charger. Both the new battery and charger are included with the D70s.
***A note of interest- Nikon provided some of the firmware updates in the D70S to owners of the D70 (such as myself). This includes the improved focusing abilities and cleaner menu system the D70S commands. You have to like a company which cares about folks it has already sold cameras to.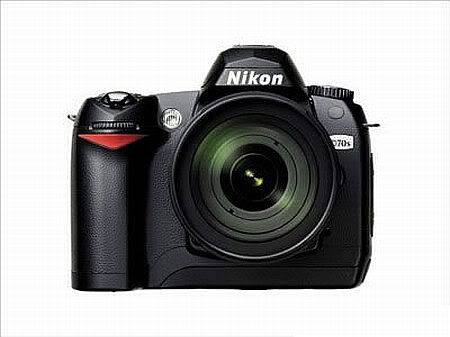 Nikon D70S
The Imaging Resource have released their much anticipated review of the Nikon D70S. Here is their bottom-line analysis-
"In the bit over a year since the introduction of the original Nikon D70, rival Canon has answered that camera's challenge strongly with their Digital Rebel XT model, catching up quite a bit in the areas of startup time and responsiveness, as well as in resolution and detail rendition.
That said though, the Nikon D70S retains the advantage of a superior lens with a wider zoom range and slightly wider maximum aperture. It also retains the superb in-hand feel and ergonomics of the original D70, while the Rebel XT has gone quite a bit in the other direction with a tiny handgrip that's simply too small to be comfortable for many users. (Although for that very reason, the Rebel XT is likely to be very appealing to many women.)
For shooters interested in flash photography, the D70S easily leads the field, with its combination of matrix metering for fill flash operation, and its direct support (no accessories needed) for true wireless TTL-metered flash operation with Nikon's SB-600 and SB-800 flash units. With its dead-simple "green zone" operation and host of helpful scene modes, the D70S is also a very approachable camera for novice users. This is an important consideration, given how well a d-SLR matches the needs of typical family shooting, an application where less-sophisticated users really need the things that d-SLRs do so well. (Fast shutter response, good high-ISO performance.) In fact, if you're at all wrestling with the issue of whether to go with a high-end "all in one" digicam or a digital SLR, you should really check out our article "SLR vs All-in-one: Which way to go?".)
Whatever your interests, the bottom line is that the D70S is an exceptionally capable, well-performing digital SLR, every bit worthy of the storied Nikon name. (In case it wasn't already obvious, it's highly recommended, and an easy
Dave's Pick
.)"
Read the full
Nikon D70S review
.