The
Sony P-200
packs 7 megapixels of resolution into an ultra compact body that slips easily into a pocket. Those looking for differences from the Sony P150 will immediately notice the larger 2" LCD screen on the back, which makes framing and reviewing pictures easier than ever. Also improved is the better battery life than its predecessor, noting that it can shoot up to 370 images on a single charge of its InfoLithium battery. As well as single-shot and burst mode, the P200 also has an unusual multi-burst mode, which can take a sequence of shots in very quick succession, with the interval variable to either 1/7.5th, 1/15th, or 1/30th of a second. It then displays the sequence as a slideshow on the monitor, or, you can make these into an animated gif for your website.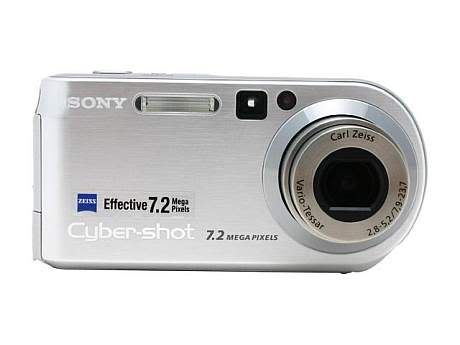 Sony Cybershot DSC-P200
Trusted Reviews, a UK based site, today posted their review of the
Sony P-200
and seem to like it a lot. Here's a quote-
"Image quality is outstanding; I would judge it to be almost the equal of the Nikon 7900. The high quality Carl Zeiss lens produces excellent results with no visible lens distortion even at wide angle, and the Sony SuperHAD CCD sensor and Real Imaging processor produce bright vibrant colours with plenty of zoomable detail. Close-range flash performance is outstanding, producing a well-lit shot with no burned-out highlights even at a range of a couple of feet. Image noise is well controlled even at ISO 400, although there were some noticeable colour inconsistencies. There is some very slight purple fringing on very high-contrast edges, but it is virtually negligible and certainly much lower than some cameras with which the P200 is competing.

All in all, a very creditable performance, and outstanding value for money. If you're looking to replace a mid-range compact digital camera with one that has more megapixels, especially if you already use Memory Sticks, then the P200 is just what you need.

In a crowded and highly competitive sector of the digital camera market the Sony P200 stands out as a very high quality camera for a comparatively low price. It has plenty of useful features, excellent build quality, good image quality and lightning-fast performance. If you're considering a camera upgrade this year, you should certainly give it consideration."
Read the full-length
Sony Cybershot P200 Digital Camera Review
here.