The
Digimax U-CA 5
is a high-resolution digital camera that is equipped with a true-color filtered 5.0 mega-pixel CCD. You can use the 5.0 mega-pixel Digimax U-CA 5 digital camera to produce even better images and take detailed photos for printing up to poster size. In addition, the Digimax U-CA 5 has a 3x optical and 5x digital zoom giving 15x total zoom when combined.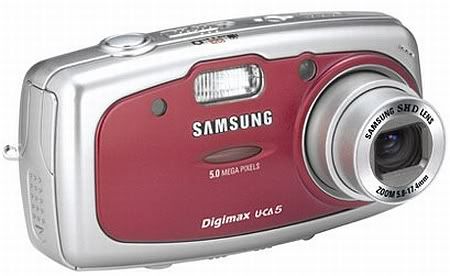 Today, Steve's Digicams posted a review of the U-CA 5 and his bottom line on this model was-
"The Samsung Digimax U-CA 5 is an affordable compact digicam that produced mediocre results. While it is a speedy performer, I was a little disappointed with the amount of noise present in its 5-megapixel Super Fine images. With a street price of around $249, it does offer a good value, especially for those who are just entering the digital world. However, if you're in the market for a 5- megapixel consumer camera, we suggest you also take a look at some other models like Kodak's CX7530, Casio's QV-R51, or the HP PhotoSmart R707."
Click to read the rest of Samsung Digimax U-CA 5 review.