News today out of Pentax indicates a new version of the *ist dSLR called the
*ist DL
. It looks to be a price-point play as it is very similar to the *ist with a few minor changes.
Affordable and simple-to-operate starter digital SLR
"Bigger only where it matters most, PENTAX delivers better for a third time in the PENTAX *ist DL digital SLR. Hosting an array of advanced, user-friendly features including an Auto Picture mode for automatic exposure selection, the *ist DL features a generous 2.5 inch color high definition LCD monitor that offers an entirely new playback dimension. Add to this, a 6.1 megapixel CCD, convenient SD media card storage, high speed USB 2.0 data transfer, and a compact high-rigidity stainless-steel chassis design offering simple, accessible operation to delight new and advanced users alike."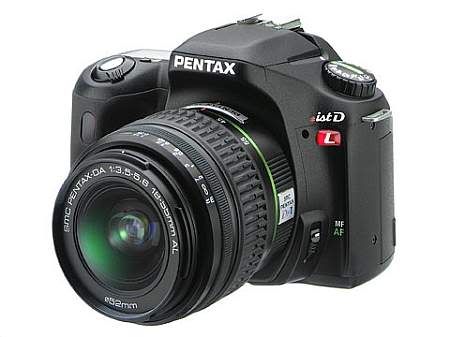 Summary of changes (compared to the *ist DS)
* Auto ISO
* 3-area AF (*ist DS was 11 area)
* Wide / spot AF
* Three level 'soft' digital filter
* Continuous shooting buffer reduced to 5 / 3 images (JPEG / RAW)
* Penta-mirror viewfinder instead of Penta-prism, 0.82x magnification
* Natural-Bright-Matte II focusing screen
* Larger 2.5" LCD monitor
* Removal of high speed sync flash
* Two new languages: Swedish, Dutch
* Slightly lighter (575g vs. 605g)
* Available in black and silver
Click to read more from Pentax's site...