The
Panasonic LZ2
features a 6x, 6.1-36.6mm zoom lens, equivalent to a 37-222mm zoom on a 35mm camera. Aperture is automatically controlled, with either f/2.8 or f/5.6 possible at full wide angle, and either f/4.5 or f/9.0 at full telephoto. Panasonic is somewhat unique in this area, offering stabilization on camera models that offer as little as 3x optical zoom, where other manufacturers restrict the feature pretty much exclusively to their long-zoom cameras. Measuring 4.0 x 2.5 x 1.3 inches (101 x 64 x 33 millimeters), the DMC-LZ2 weighs approximately 7.8 ounces (224 grams) with the battery and storage card installed. I'm considering buying one of these myself as my other two digicams are far too large to fit in a pocket.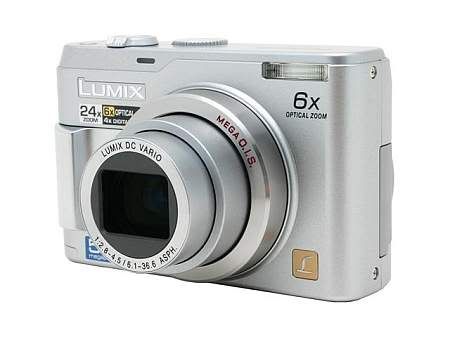 The Imaging Resource
has posted a "Quick Review of this digicam this morning and had this to say-
"The Panasonic Lumix DMC-LZ2 is a pretty unique digital camera, there really isn't anything else like it on the market from any of the other manufacturers. It packs a 6x zoom lens into a surprisingly compact body, and throws in Panasonic's excellent MegaOIS Optical Image Stabilization technology for good measure. Image stabilization is becoming more of a factor in the market these days, and with good reason, as it really makes long-ratio zoom lenses a lot more useful than they would be otherwise. Along with the long, stabilized zoom lens, the Panasonic LZ2 also offers 5-megapixel resolution, very bright color without oversaturating skin tones, good macro focusing, and excellent battery life. The downsides are that its images get soft in the corners at the telephoto end of its range, shots captured at ISO 400 are noisy, and its low light shooting and focusing capability is a little limited (but still OK for typical city night scenes). None of these are by any means fatal flaws though: The Panasonic DMC-LZ2 is a fine little camera, and clearly one of the best bargains on the market for a long-zoom, optically stabilized digital camera. It just missed being named a "Dave's Pick," but it deserves your very serious consideration if you're looking for a long-zoom camera on a budget. - You really can't match its combination of 5 megapixels, 6x zoom and optical image stabilization for anywhere near its price, and its compact body design is an added plus."
Ya, I might just have to go out at lunch and pick one up....
Click to read the rest of this review...