Owners of Olympus E-System cameras will soon be able to get a completely new view of the world with the introduction of the
ZUIKO DIGITAL ED 8mm 1:3.5 Fisheye Lens
. E-1 and E-300 photographers will soon be able to benefit from a full 180° diagonal angle of view enabling unique and eye-catching panoramic pictures to be taken. That's wide. You can even get an optional lens port to let you take this lens underwater.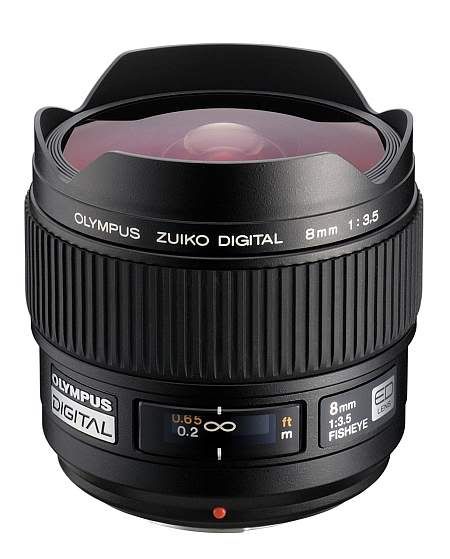 The
ZUIKO DIGITAL ED 8mm 1:3.5 Fisheye Lens
– main features
* Diagonal Fisheye Lens with 180°angle of view
* Focal length of 8mm (16mm fisheye on a 35mm camera), 1:3.5
* Focusing distances (object – sensor) as close as 13cm
* Minimum working distance 2cm from the lens front for wide-macro shooting
* ED lens element for minimised chromatic aberration
* Circular aperture diaphragm for natural background blurring
* Multi-coated lens elements to reduce ghosting and flaring
* Dust & water droplet resistance for enhanced reliability
* Suitable for underwater photography when used with optional PPO-E04 underwater lens port and combined with Olympus E-300 & PT-E01 underwater case
Mre details are available from the press release of the
ZUIKO DIGITAL ED 8mm 1:3.5 Fisheye Lens
here.