The 5.1MP
Coolpix S1
is one of Nikon's sleekest and sexiest digital cameras. Unfortunately, that great design does not translate into great picture-taking ability.
The camera has a nonprotruding 3x optical zoom that zooms from 5.8 mm to 17.4 mm (a 35-mm equivalent of 35 mm to 105 mm) and a bright 2.5-inch LCD. It comes with 12MB of on-board memory, good for several shots if your SD card is full. Users can access a variety of shooting modes, including Auto, Movie (640 by 480 pixels at 15 frames per second with no zoom capabilities), and 17 scene modes. Face Priority AF, a portrait-focusing feature introduced at this year's PMA, is included and worked reasonably well.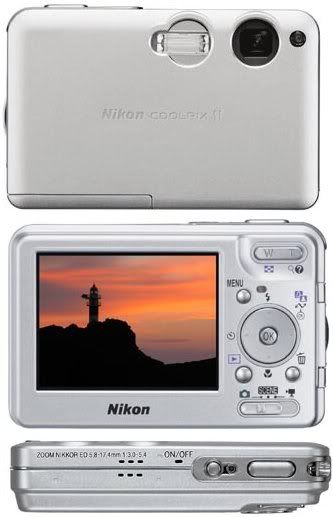 There's a new review out today on this digicam, this on is from
DCResource.com
. They weren't thrilled with this camera either.
"The Coolpix is pretty much a point-and-shoot camera, with the only manual control being for white balance. There are numerous scene modes including several which provide framing guidelines that help you compose your shots. The only downside here is that the slowest shutter speed available is just two seconds, which may not be long enough for some night scenes.
...
Photo quality is really the S1's weak point. While photos were well-exposed with low noise and purple fringing levels and accurate colors, there was way too much blurring around the edges of the images in my opinion. While all ultra-thin cameras have some issues like this, it was noticeably worse than average on the Coolpix S1. And, as you'd expect from a compact camera, redeye was a problem. The S1's movie mode was not great, with poor quality at the highest resolution (VGA) and a sluggish frame rate. Camera performance was average in almost all areas, save for the decent continuous shooting mode.
...
The Coolpix S1 has a lot of potential, but frankly there are better ultra-thin cameras on the market now. Let's hope the next iteration of the Coolpix S1 does a little better."
Click to read the whole
Nikon Coolpix S1 Review
.