Another review of the
Nikon Coolpix S1
digital camera this week, this time from
The Imaging Resource
.
The Coolpix S1 has a five megapixel CCD, a three times folded-optics zoom lens (a first in a Coolpix) and a 2.5" LCD monitor. The S1 also features some Coolpix technology such as Face Priority AF, in-camera red-eye fix and D-Lighting. The very stylish Coolpix S1 is available in three colors; black, silver and white.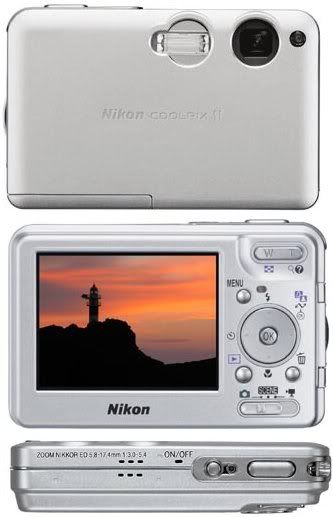 It sounds like this Nikon is a clear winner.
Imaging Resource
said-
"Nikon's Coolpix line of consumer digicams has always been well-received, appreciated for their image quality and ease of use. The Coolpix S1 starts a new design trend for the company, packing a lot of features, a 5.1-megapixel CCD with 3x zoom lens, and a surprisingly large 2.5-inch LCD into a very small, attractive package. The result is a pretty successful subcompact digital camera design. The Nikon S1 shares some common limitations with other tiny subcompact models, in the form of limited battery life and a tendency to produce soft corners in its images, but these shortcomings represent more or less universal tradeoffs required by the tiny form factor. Image-wise, the Nikon Coolpix S1 delivers very bright, snappy-looking photos with vibrant, hue-accurate color and plenty of detail for making large prints. The S1's color is indeed very bright: This will appeal to the majority of consumers, who have again and again shown a strong preference for bright color, but may be a bit overdone for those accustomed to the more restrained color of higher-end and professional digital camera models."
Click to read the full Coolpix S1 digicam review