The 5.1MP
Coolpix S1
is one of Nikon's sleekest and sexiest digital cameras. This model is completely newly developed and has a very classy appearance. The
Nikon S1
is available in the colours Pure Silver and Ebony Black. The material used for the housing of the camera is aluminium and is beautifully finished. The new Nikon Coolpix S1 has a very compact size and is ultra flat with only 19.7 mm. Despite its slim body, the camera is equipped with a 3x optical zoom lens that doesn't extend, like we have seen on other thin digital cameras.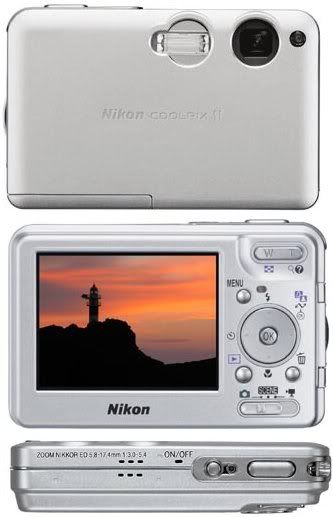 Steve's Digicams reviewed the Nikon S1 and had this to say-
"The S1 includes two unique features that help you overcome common causes of poor images. Blur Warning detects camera movement during the exposure, warning you that the image is blurred and giving you the choice of saving the picture or not. If you are satisfied, you can save it; if not, you can retake it with flash or Best Shot Selector on, ensuring that you leave with a better image. D-lighting solves a different problem, one of underexposure due to back lighting or insufficient flash coverage. D-lighting operates in image playback mode; if you find an underexposed subject, simply hit the OK button and the image will be brightened and displayed on the LCD monitor. If you like the result, confirm that you want it saved; it will be recorded with a different file name.
...
The Coolpix S1 makes a good choice for those who want ease of use, speedy performance, and great image quality in an extremely small camera that can be tucked away almost anywhere. While it offers very useful features like Face-priority AF, D-lighting and Red Eye Fix, I was disappointed with the short flash range, Continuous AF performance in Movie mode and the flash recharge issue when the battery is not fully charged."
Click here to read the full Nikon Coolpix S1 digicam review...