The
Nikon Coolpix 7900
offers 7 megapixel resolution, a solid aluminium body, 3x zoom lens and a wealth of innovative features. It's available in black too. The Coolpix 7900 is equipped with a 1/1.8 inch, 7.41 million pixel CCD, of which 7.1 million pixels are effective to produce an image size of 3072 x 2304 pixels.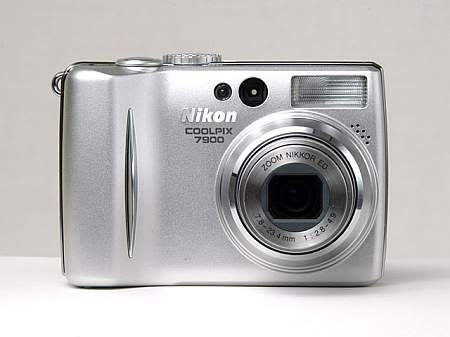 Megapixel.Net
just reviewed this digicam. They said-
"The Coolpix 7900 is very compact, and its small body, supports a comparatively large 2-inch LCD monitor. This means that the space available for controls is limited. Yet, the ergonomics of the camera are quite good, and most of the controls are easily accessible and useable. Still, one we should caution users with big fingers that the OK button is a touch too small, and that it is easy to accidentally press one of the arrows of the Multi selector instead. Similarly, the Mode Dial protrudes from the body, and is easily unintentionally rotated while the camera is handled."
Features:
7MP resolution
3x optical Zoom-Nikkor lens with ED elements (38-114mm equiv.)
In-Camera Red-Eye Fix
D-Lighting (in-camera shadow lightening)
Post-shot Blur Warning
16 scene modes
14MB internal memory
640x480 pixel, 30fps movie mode
Best Shot Selector - takes a series of shots and chooses the sharpest for you
White Balance and exposure bracketing
Available in silver or black (not all countries)
Click here to read the whole
Nikon Coolpix 7900 Review