A Nikon Coolpix 5600 Digital Camera Review has just gone up at
DigitalCameraInfo.com
The
Nikon Coolpix 5600
is a stylishly designed 5 megapixel compact digital camera that was first announced at the PMA show back in February 2005. The Coolpix 5600 is one of the first Nikon digital cameras to feature the new D-Lighting technology, which intelligently lightens overly dark images, and Advanced Red-eye Reduction, which automatically detects and corrects red-eye in most situations. The Nikon Coolpix 5600 has a 3x optical zoom lens equivalent to 35-105mm on a 35mm camera, a 1.8 inch LCD screen and 16 different scene modes to help you take better pictures.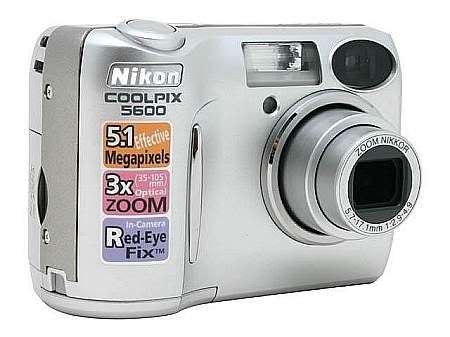 Here's a quote-
"The Nikon Coolpix 5600 packs a few cool features into a very traditional silver structure. Nikon advertises the camera's D-Lighting, In-Camera Red-Eye Fix, and Scene Assistance functions as effortless alternatives to improve image quality. These functions do work to a degree and will help salvage some improper exposures; however, many of these flaws stem from the camera's limitations that would not arise on other similarly priced models. To make the camera a more attractive alternative, Nikon is now offering the 5600 at a reduced price of $249.95 with printer rebates on Nikon website. This does add to the appeal, but the potential audience is extremely narrow. The Coolpix 5600 will grant consumers a 5.1 effective megapixel 1/2.5-inch CCD, with a 3x optical zoom lens and 1.8-inch LCD screen but lacks resolution on the LCD screen and any semblance of user control. It seems as though the majority of the 5600's automatic in-camera image corrections are designed to cover up the camera's flaws rather than correct problems that arise from difficult shooting situations. The Coolpix 5600's primary marketing campaign revolves around these automatic adjustments but the $249.99 price tag is directly correlated with the 5 megapixels of resolution available. This seems to be a bit of a contradiction, as most completely hands-off, near anti-photographers drawn to the camera would not print their snapshots larger than 8x10 and surely will not be doing much cropping and editing after the fact. Therefore, the 5600 will serve a specific type of user; however, for that demographic, there are stronger values out there."
Click to read the rest of this article...