The
Konica Minolta Dimage Z20
is a surprisingly capable camera with an Automatic mode for snap shooters and Program, Aperture Priority, Shutter Priority, and Manual exposure modes for photography enthusiasts.
Not only is the
DiMAGE Z20
a sprinter with its fast startup; it's also a marathon champ with power efficiency that allows you to take up to approximately 450 frames with the four included AA alkaline batteries. This is more shots than any other digital camera in its class*2.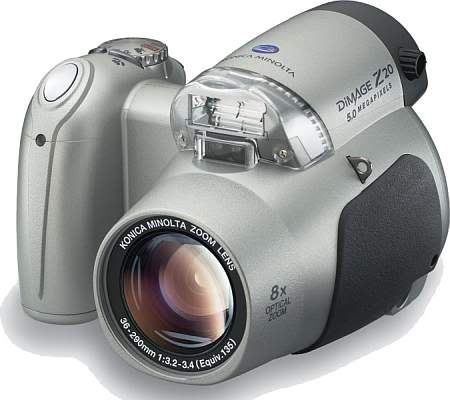 LetsGoDigital.org
have released their review of this Sci-Fi freak camera and had this to say-
"You can't deny it: the Konica Minolta DiMAGE Z20 is an excellent digital camera suitable for a large target group. It's an ideal camera for taking images in and around the house and it is also an ideal travelling companion on trips, holidays and long journeys. The camera is light weighted, equipped with an outstanding handgrip and it features a fine zoom lens. Konica Minolta even kept the price of the DiMAGE Z20 down to an attractive low level so you'd possibly like to add the Z20 to your wishing list soon! As far as we're concerned, we find the Z20 most recommendable."
Ok, ok, they liked it, a lot! I just couldn't see myself carrying that around.
Read what else they said about the
Konica Minolta Dimage Z20 Camera
here.