The super slim, aluminum-cased
Fujifilm Z1
is powered up by a sliding lens cover that is the size of the camera. It also boasts a 2.5-inch LCD with toughened glass, ISO up to 800 and VGA-quality movies. The Z1 uses the same "folding lens design" as some of other ultra-thin cameras on the market. This means that most of the lens elements travel perpendicular to the front lens element, going down the body instead of toward the back. Thus the lens takes up less space and never extends out of the body. Kind of cool actually.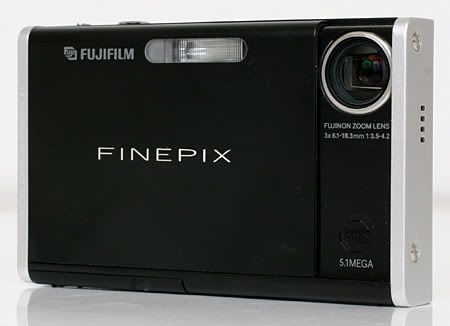 Fujifilm FinePix Z1
PC Magazine
posted a review of the Fujifilm FinePix Z1 today and here's a taste-
"We love the brilliant LCD, which can be brightened by pressing the top of a four-way control button next to the screen, and the camera's sleek black body looks good. The only real design problem is the cradle. The Z1 needs to be placed in the included—and rather flimsy—cradle for charging; we would prefer a more substantial base that didn't tip over so easily.
...
Compared with the other ultracompacts available on the market, the Z1 is a very good buy, though we still give the edge to the Canon PowerShot SD500 Digital Elph for its superior photo quality and quicker recycle time."
Click to read the entire
Fujifilm FinePix Z1 review.