The new
Fujifilm A350
is the latest addition to Fujifilm's diverse digital camera line in a new, more contemporary look for the popular A-series FinePix digital cameras. The Fujifilm FinePix A350 also boasts 5.2 effective megapixels on its 1/2.5-inch CCD.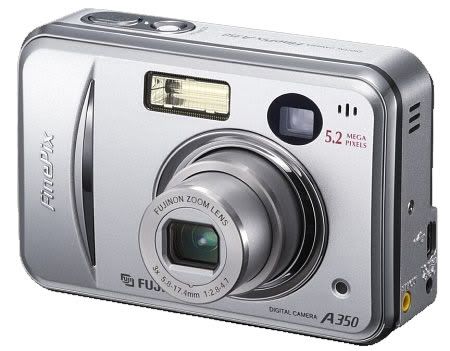 DigitalCameraInfo.com
today posted their review of the A350 and did not like this camera. A quote-
"The LCD is only 90 percent accurate. Unfortunately, the viewfinder is much worse with only 75 percent accuracy, so users are not really given any good framing options. There is no telling what the picture will really look like until it is uploaded onto a computer or printed. This is inexcusable, even for a point-and-shoot model. For $299, the A350 is a good deal that I would normally recommend for the automatically oriented point-and-shoot crowd. However, the positive part of that phrase is tainted by the inaccuracies of the framing options. Sure, I understand that when a camera doesn't include manual controls, it is aimed for true point-and-shooters, but when the camera doesn't include any good options for framing, what audience segment of the digital camera market will want it?"
Click to read the rest of this
Fujifilm FinePix A350 review
.