Owners of the FinePix F10 Zoom take note!

Fujifilm today announced the arrival of an underwater housing unit for the popular FinePix F10 Zoom digicam.
Set to be a sub-aqua hit this summer, the brightly coloured polycarbonate casing provides a smart, waterproof shield for the
FinePix F10
Zoom at depths of up to 40 metres.
Whether you're about to embark on the journey to Atlantis or create your own adventure at a Florida water park, this high impact casing is precision-engineered to withstand the elements. Furthermore, it features a large, fast-response shutter button, as well as easy-to-use controls, so you can access everything the camera has to offer without the worry of water damage.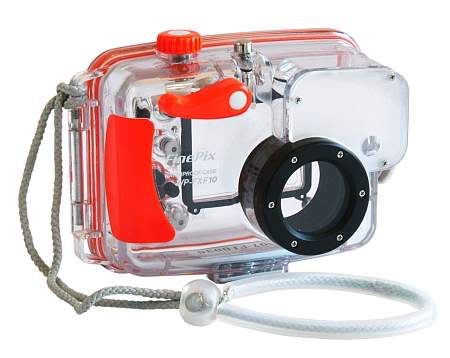 Lending itself well to the variable lighting and unstable conditions of the undersea environment, the six megapixel FinePix F10 Zoom boasts a new 'Real Photo Processor' that achieves a sensitivity rating of ISO 1600 at full resolution. This means that clear, noise-free images are captured without the need for an external flash, so marine life won't be disturbed when photographed. What's more, the camera's impressive 500-shot battery life means the only thing you'll be coming to the surface for is air.
FinePix F10 Zoom Underwater Housing features at a glance:
Pressure resistance: 40 metres
Made from tough, transparent polycarbonate
Dedicated design retains full camera functionality when sealed
FL reinforced glass lens window
135mm x 102mm x 92mm (W x H x D)
Weight: 325g (excluding camera and accessories)
Package includes:
Waterproof case
Hand/wrist strap
Silicon grease
Silica gel
Balance weight
Spare O-ring
Unlocker/O-ring remover
Quick maintenance guide
Owner's manual
Click to read the rest of this article...