Amsterdam, 17. June, 2005 – DIWA (Digital Imaging Websites Association), a world-wide organization of collaborating websites, today announces a DIWA Silver Award to the
Casio EXILIM EX-P505 digital compact camera
.
The reviewers were impressed to see how Casio's engineers have managed to adapt the credit card size symbolizing the EXILIM concept, yet maintaining the professional SLR look as well as including a multitude of features normally found in much larger cameras. Most surprisingly is its powerful and high quality 5x optical zoom lens with focal lengths comparable to 38-190 mm in a 35 mm film camera, including macro as close as 1 cm, 7-points auto focus as well as an option for manual focus. The EX-P505 also delivers fast startup, auto focus and playback function, virtually instant shutter release response, 5 Megapixel resolution for 30x40 cm (12x16") photo quality prints, a large movable 2-inch (5.1 cm) LCD screen, fully automatic and manual controls and tailor made Best Shot programs optimized for 22 different scene types. The EX-P505 also introduces stereo sound to movie recording, with VGA resolution and 30 fps in the high quality MPEG-4 format.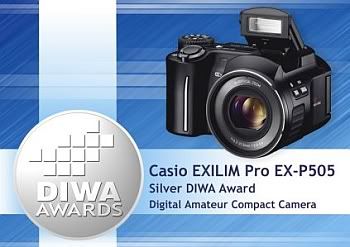 Kai Thon, DIWA's test manager comments: "No other camera combines compactness and high quality features like the Casio EXILIM EX-P505. Aimed at an audience in search of a handy, user friendly camera with extended optical zoom capabilities, excellent movie functions and a multitude of creative options through manual override, the EX-P505 is a top shelf selection. Still, its price is pleasantly modest."
Click to read the rest of this press release...