Yesterday I gave
my opinion on the Casio Exilim EX-Z-750
telling you all how much I liked this little digicam. Well, I found
Ken Rockwell
has one too and has written a
full review on his website
.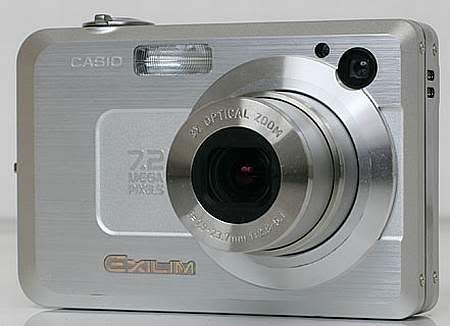 Casio Exilim EX-Z750
Ken has nothing but glowing admiration for this camera. Here is how he opens his review-
"The Casio EX-Z750 is my favorite compact camera as of June, 2005. I bought one personally and carry it everywhere in my pocket. It has instantaneous operation, easy navigation through simple menus and has all sorts of clever features and excellent ease- and speed-of-use lacking in Nikon and Canon compacts. It has 7 megapixels, a 3 x zoom and full manual controls if you need them. It's super easy to use, and even gives usable images at ISO 400 unlike most other compacts. Image quality for static subjects at low ISO is the same as my Nikon D70 DSLR and quite unlike what you'd expect from a girlie-sized camera, as I'll show later in this review here.

These Casio credit-card style cameras are the best thought out, fastest and easiest to use compact digital cameras with more salient features critical to serious photography than any other compact digital camera I've ever used."
Wow! Ken, tell us how you really feel.
I agree with most of what Ken says although I think his review is a tad bit too glowing in spots. Anyway, click here to read the full
Casio Exilim EX-Z750
review.