This is the Ultra-compact I bought just last week and reported on in
Opinion on the Casio Exilim EX-Z750
. The Z750 offers a wide shutter speed range of 60 - 1/6000 sec and MPEG-4 movie capture, which has a Past Movie function enabling video recording to begin from five seconds before the shutter is pressed. In my opinion, the feature-set is top-notch, but the dynamic range is lacking.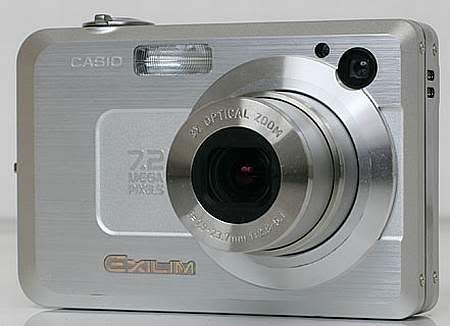 DPReview
have just posted their review of the
Exilim EX-Z750
and said-
"Given that the majority of ultra-compact 7 megapixel cameras share the same CCD sensor, have similar lenses and processors, and have enough pixels that any small differences in resolution and noise will only be visible when you produce big enlargements, it is perhaps unsurprising that they produce very similar results when printed at 'normal' sizes. Where the differences do show is in areas such as exposure, color and dynamic range, and often choosing between one model and another comes down to little more than personal taste. Handling, design and 'add on' features are also important when attempting to choose one model over another, and in this latter area the EX-Z750 is a clear winner.

It's a surprisingly rewarding camera that manages to squeeze a lot of features into its tiny body, and - just as importantly - makes using the wealth of controls and features as easy as possible given the lack of surface area for extensive external buttons or switches. It's fast, easy to use, and reliable, with very few focus or exposure problems (save for the occasional metering error in scenes with lots of contrast or large areas of sky). In the final assessment the EX-Z750 has a bigger feature set than any of its pocket-sized competitors and has a very impressive movie mode with some pretty advanced options thrown in for good measure. "
Key Features:
7.2 Megapixel CCD
3x optical zoom lens
High speed start up and operation
2.5-inch TFT screen and optical viewfinder
MPEG-4 movies at up to 640x480 / 30fps
30 Best Shot scene modes
325-shot battery life (CIPA standard)
In-camera special effects
Post-shot white balance and exposure adjustments
Aperture priority, shutter priority and manual exposure options
EX button for fast access to shooting controls
Click here to read the full Casio Exilim EX-Z750 review...