The 7.2 megapixel
EX-Z750
's optical 3x zoom lens and large 2.5" TFT colour display makes framing and sharing shots a breeze. In addition to standard automatic operation, an extremely versatile array of shooting functions enables users to achieve a variety of photo effects.
Using MPEG-4 format, high quality movies can also be taken in VGA size (640 x 480 pixels) at 30 frames per second.
CASIO has included its
EXILIM
Engine to reduce power consumption and its SUPER LIFE battery to enable an impressive 325 shots (CIPA standards) on a single charge. When set in its cradle, an AV out connection allows the user to view and share the photos or movies taken on their television.
I own one of these marvels of miniaturization and find I take it absolutely everywhere with me.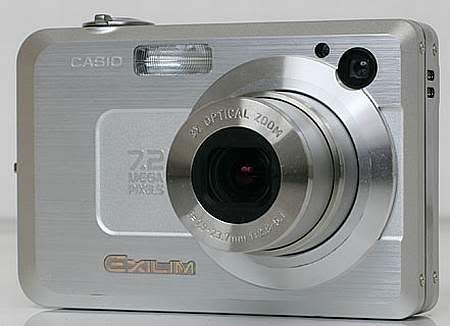 Casio Exilim EX-Z750
DigitalCameraReview.com
today posted their review of the
Exilim EX-Z750
and I think they liked it too. Here's a couple of quotes-
"Casio's newest digicam is a precision built imaging tool that absolutely radiates class. It reminds me of the iconic Rollei 35S and the sexy little Contax T2 film cameras. The Casio Exilim EX Z750 is a seven-megapixel digital camera that's small enough to be dropped in a shirt pocket and tough enough to go just about anywhere. It's very fast (across the board), has better battery life than the Energizer bunny, and is almost infinitely tweakable.
...
Casio's new Exilim Ex Z750 is a worthy alternative to Canon's Powershot SD500
...
The new Casio Exilim EX Z750 is often compared with the
Canon Powershot SD500
and that's a reasonable comparison (since these two digicams are similar in many ways). Photographers looking for a easy to use point and shoot or a stylish ultra compact bar/party camera should probably opt for the SD500. Shooters who want the ability to intervene in the creative process by tweaking settings until they get just the "look" they want are probably going to be happier with the Z750. As the icing on the cake, the Z750 will still be going after the SD500 runs out of juice and it costs less than it's chief rival, too. I really liked the Canon Powershot SD500, but when push comes to shove I like this little Casio better."
Exilim EX-Z750 Features:
7.2-Megapixel effective CCD imager, 3x optical zoom w/auto macro
Stylish, durable and light-weight aluminum body
Large 2.5-inch TFT color LCD with 115,200 pixels
Super-Life Battery enables up to 325 shots on a single charge (CIPA standards).
AF assist light makes focus operation easier even in dark settings.
High-speed start-up enables shooting approximately 0.9 seconds after the power is turned on.
Release time lag of only 0.007 seconds after the shutter is pressed.
High-speed picture playback of approx. 0.1 seconds interval.
Continuous shutter function enables photos to be taken in 0.9 seconds intervals.
Manual exposure mode enables greater creativity for more enjoyable picture taking.
30 "BEST SHOT" scene modes set the camera for easy to difficult situations.
Attach up to 30-second audio memos to still images at capture or later.
Record voice-only audio, approx. 25 minutes on internal memory.
MPEG-4 video in VGA size (640 x 480 pixels) at 30 frames per second.
Movie Best Shot, Past Movie, Short Movie and in-camera movie editing.
9-point autofocus system with selectable AF modes: Multi or Spot AF.
Focus modes: Auto, Pan, Macro, Infinity, Manual focus, Focus lock.
Manual shutter speeds from 60 to 1/1600 seconds.
ISO sensitivity from 50 to 400 or Automatic.
Built-in flash with Red Eye Reduction and Flash-assist function.
USB 2.0 high speed data transfer to PC or Mac computers.
Li-ion rechargeable battery and charging cradle included.
8.3 Megabytes of internal memory and SD card slot for memory expansion.
DPOF, ExifPrint (Exif 2.2), PRINT Image Matching III, USB Direct-Print, and PictBridge compatible.
The Casio EX-Z750 has a suggested retail of about $449.99 and is available now.
Read what else they had to say about the
Casio Exilim EX-Z750
right here.