A thing of beauty is the
Casio Exilim EX-S500
- a 5 megapixel version of their ultra small, ultra cool S100 - the S500 features a 3x optical zoom, VGA 30fps MPEG4 video that allows you to store one hour of video on a 1GB SD card, a larger 2.2" screen, all in a slimmer (16.1mm) body available in 3 colours: Grey, Red and White. The new camera has built in 'anti-shake' technology:
"With Casio's EXILIM Engine's Anti Shake DSP, blurry pictures are nearly a thing of the past."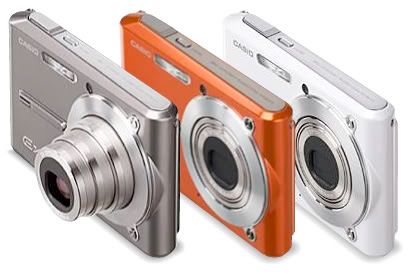 Casio Exilim EX-S500
PC Magazine has a review up of the Casio Exilim EX-S500
and write-
"With its super-slim body, light weight, versatility, and excellent picture quality, the 5-megapixel Casio Exilim EX-S500 is a camera you can carry everywhere. What's more, the hot colors and "electrical coating" ensure you'll take it out of your pocket as often as possible to show it off (and maybe shoot some photos, too). It performs on par with our Editors' Choice, the 4-megapixel Canon PowerShot SD300 Digital Elph (and its big brother, the SD400), though the SD300 retains its EC title.
...
The decision to keep the SD300 as our Editors' Choice came down to small differences between the two cameras. We think the optical viewfinder, manual options, and $50 price difference give the edge to the Canon. That said, the EX-S500 is sleeker, faster, and takes equally good daylight pictures at a slightly higher resolution. If you aren't the type to use a viewfinder or manual settings, the EX-S500 is the ultracompact for you."