This morning Casio has announced the new
Casio Exilim EX-S500
and it looks it's going to be one popular camera. The Exilim EX-S500 comes with 5.0 megapixels, 3x zoom and MPEG-4 quality movie recording capabilities, allowing more than one hour of standard video recording when using a 1GB SD memory card. The stainless steel-bodied camera is available in meister gray, fiesta orange and nordic white - very cool.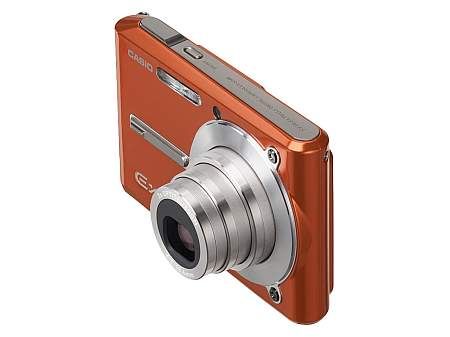 The EX-S500 is a culmination of Casio's core technologies, combining cutting-edge miniaturization and digital expertise with state-of-the-art movie recording capability. As with all digital cameras in the EXILIM Series, the EXILIM CARD features Casio's EXILIM Engine, an image processing module that makes possible the high quality images, quick operation, and low power consumption that has made the EXILIM the camera of choice for many users. The latest version of the EXILIM Engine features the Anti Shake Digital Signal Processor, which reduces blurring caused by shaking hands or moving subjects, while the Auto Macro and Quick Shutter functions ensure that photos are properly focused.

In addition to virtually blur-free pictures, 5.0 mega pixel resolution and 3X zoom capability means high quality pictures as well. A large 2.2-inch TFT LCD screen makes still and video photography easy to shoot, and the lithium ion rechargeable battery allows up to 200 shots on one charge.
EXILIM CARD EX-S500 Main Features
High Performance, High Quality Thin Card-Sized Highlights
• 5 mega pixel CCD makes for high resolution picture taking
• Miniaturized digital camera with a retracting 3X optical zoom employing high density technology resulting in a 77 cc volume just 16.1 mm thick (thinnest point: 13.7 mm)
• Uses the EXILIM Engine image processing module, which includes the Anti Shake DSP
• MPEG-4, VGA(640×480 pixels), 30 frames/second enables high quality movie taking
• Super life battery allows up to 200 pictures per charge, based on CIPA standards
• Movie can be shot continuously for 1 hour and 20 minutes
• 1 hour of movies can be taken in "Normal" mode using a 1GB SD memory card
• Once powered on, the camera is ready to take pictures in approximately 1 second*1
• After the shutter is snapped, picture is taken almost instantaneously with an approximately 0.008 seconds*2 release time lag
• High-speed picture playback of approximately 0.1 seconds interval*3
• Continuous shutter function enables photos to be taken in approximately 1 second intervals, limited to available space on memory card
• Digital interface TFT LCD 2.2 inch screen for easy viewing
• AF assist light function allows for perfect focus in dark places
Beautiful color body is brilliant and smooth, due to a special "electrical coating" process enhancing the look and feel of the stainless steel body