The
Canon Powershot SD400
is packed with a high resolution 5.1-megapixel CCD image sensor, a retractable 3× optical zoom lens with macro capabilities, a fast 9-point autofocus system, a new and more powerful built-in flash, rechargeable battery and a large 2-inch color LCD monitor, all driven by the exclusive DIGIC II (fast) processor and housed in a stylish and durable stainless steel case. Quite a lot for such a small pachage.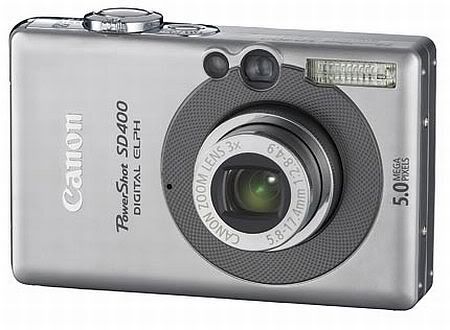 Canon PowerShot SD400
The Imaging Resource website has high praise for this tiny digicam honoring it with a Dave's Pick designation. Here's an excerpt-
"Canon's ELPH line of digital cameras has consistently offered good image quality, user-friendly design, and excellent build quality, and the new Canon PowerShot SD400 is no exception. When it comes to picture taking, while actual exposure control remains automatic, the ability to adjust ISO, White Balance, and access longer shutter times significantly increases the camera's shooting range. Thanks to its high-speed DIGIC-II processing chip, it's also quite responsive for a subcompact digital camera, and its movie capability goes far beyond what I'm accustomed to seeing from subcompact digital camera models. Overall, the SD400 is similar in most respects to the excellent 7-megapixel Canon SD500, coming in slightly smaller and a bit lighter, and about $100 lower in price than its "big" brother. It focuses a bit closer than the SD500, but also has a bit more trouble with soft corners in its images than does its higher-end sibling. Overall though, it's a nice camera, a good value, and a good option if the $100 higher price of the SD500 puts that model out of your price range. Bottom line, a very nice little camera, another Dave's Pick for Canon."
Click here to read the full
Canon PowerShot SD400
review.