The
Canon PowerShot A520
is an affordable digicam for the budding photography student. This camera is essentially a 4-megapixel version of the PowerShot A510 (a 3.2-megapixel camera). The A520's 4X zoom is generous in this price range, and the camera has 13 scene modes. You don't have to navigate the menus to access the most common modes (portrait, landscape, night portrait, sports, and slow shutter)--you can access them directly using a dial on top of the camera. The
Canon A520
allows you to adjust the exposure, which is well suited to beginners who want to learn about photography instead of relying on scene modes all the time. In addition to including shutter-priority and aperture-priority modes, the A520 also has a full-automatic mode that allows the user to adjust both the shutter speed and the aperture.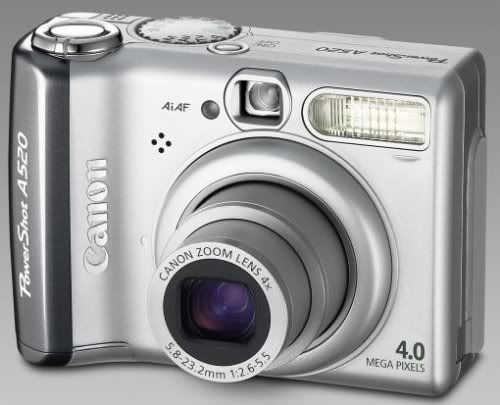 Photoxels today reviewed this digicam. Here's a few quotes from their site-
"If you are new to digital photography and are wondering which digital camera to start with -- look no further. A quick look at the specifications of the Canon A520 reveals a feature-packed digital camera that allows you to go beyond point-and-shoot -- and all the advanced features work exactly as they should.
...
We find the overall image quality of the Canon PowerShot A520 to be very good for its category, with excellent image detail and low noise at ISO 50.
...
Overall, very good image quality for a 4MP digital camera: sharp pictures, great image detail, vibrant colours, well-exposed. For an entry-level digital camera, the Canon PowerShot A520 rates very good in image quality and the flexible exposure control it provides."
Check out the full
Canon PowerShot A520 Review
.