Our Canon review for today is of the
PowerShot A510
. This four times optical zoom three megapixel digital camera is aimed at the entry level user with a basic range of features. The biggest difference compared to the A75 are its size and weight (it's 13% smaller and 20% ligher), the inclusion of a new four times optical zoom lens (the A75 had a three times), zoom linked flash, a shift from Compact Flash to SD card for storage and a drop two two AA batteries from four.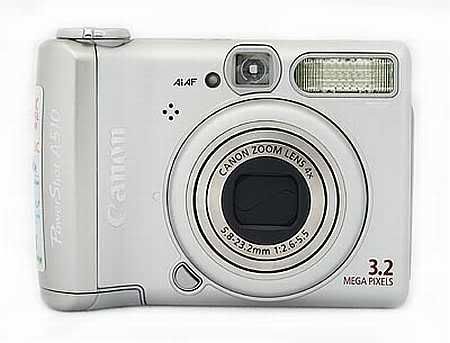 megapixel.net
today have posted their review of the
Canon PowerShot A510
and said the following-
"With its 3.2 megapixel resolution, the PowerShot A510 is definitely "entry-level". Yet, it is also proof that the term "entry-level" is not always a euphemism for "lower performance".
...
The A510's body design, and its ergonomics, are the product of a number of years of cumulative refinements. The A510/520 body is more compact, more stylized, and even easier to use than recent cameras in this line such as the A95 and A85. The optical viewfinder is placed closer to the left side of the body, making it easier to use, and the controls, including the Mode dial with its well-defined positions, are better than those of previous A-series cameras."
Click to read the full review...