Those of you with a Canon digital SLR might be interested in this Canon 1.6x Crop, DOF and Hyperfocal Calculator from
Gordon McKinney
. You can print it out yourself and tuck it in your camera bag.
This handy paper calculator is ideal for quickly calculating the depth-of-field for group portraits and individual portraits using lenses ranging from 10mm to 50mm on Canon Digital SLRs with 1.6x crop (20D, 350D, 300D, 10D etc.)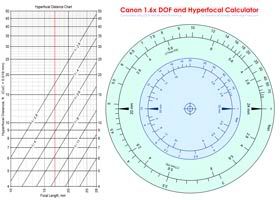 Check out Gordon's
Canon 1.6x Crop, DOF and Hyperfocal Calculator
for the full graphics and instructions.