Canon today announced the launch of the
EOS 20Da
– a digital SLR optimized for astrophotography photography. Based on the popular EOS 20D camera and joining it as a companion model in Canon's product line, the new EOS 20Da digital SLR specifically addresses the needs of astrophotography with features such as a live preview on the LCD monitor and a modified low-pass filter optimised for photographing the night sky in brilliant detail.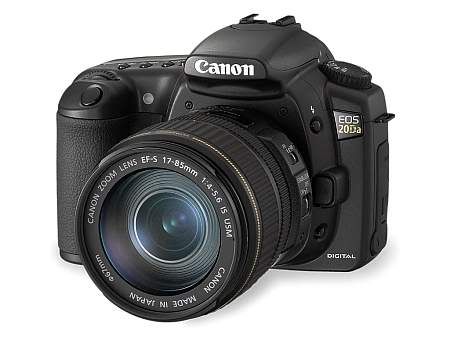 From their press release-
The low-pass filter positioned in front of the EOS 20Da's 8.2 Megapixel CMOS sensor has been modified to yield sharper and higher contrast images of various astronomical phenomena such as diffuse reddish nebulae. The modification increases the transmission of light at the wavelength of 656nm, known as the Hydrogen Alpha line, or H? wavelength, by a factor of 2.5x compared to the standard
EOS 20D digital SLR
.
"The EOS 20Da digital SLR is a direct result of Canon addressing the specialised needs of the astrophotography market," said Mogens Jensen, Head of Canon Consumer Imaging Europe. "As an affordable digital alternative to their familiar film bodies, the EOS 20D offered semi-professional and serious amateur photographers digital photographic freedom. Now with the EOS 20Da, we also offer astronomy enthusiasts a new photographic freedom, by providing an easier and more cost effective way to photograph the heavens."
Click to read the rest of this press release...