The 5.1MP
Coolpix S1
is one of Nikon's sleekest and sexiest digital cameras. This model is completely newly developed and has a very classy appearance. The Nikon S1 is available in the colours Pure Silver and Ebony Black. The material used for the housing of the camera is aluminium and is beautifully finished. The new
Nikon Coolpix S1
has a very compact size and is ultra flat with only 19.7 mm. Despite its slim body, the camera is equipped with a 3x optical zoom lens that doesn't extend, like we have seen on other thin digital cameras.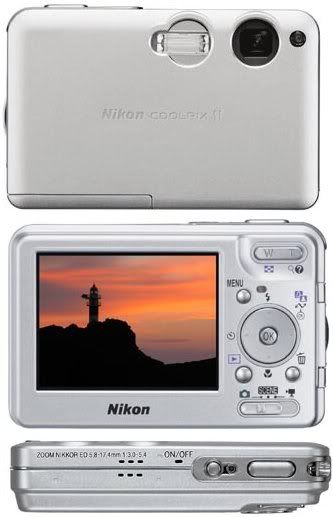 The Digital Camera Resource Page reviewed this camera yesterday.
"The Coolpix S1 -- Nikon's first ultra-thin camera -- is a stylish camera that ultimately fell behind the competition in several areas. The S1 has a compact, all-metal body with a 3X zoom lens (using folded optics technology like several other cameras in this class) and a 2.5" LCD display. The camera is well built and can go just about anywhere. While it's large, the LCD wasn't terribly impressive in low light, and the resolution could've been higher too. The camera has an AF-assist lamp, but I wasn't thrilled with how it performed in those situations.

The Coolpix is pretty much a point-and-shoot camera, with the only manual control being for white balance. There are numerous scene modes including several which provide framing guidelines that help you compose your shots. The only downside here is that the slowest shutter speed available is just two seconds, which may not be long enough for some night scenes.

Two handy features found on the S1 include the D-Lighting "digital flash" system described earlier as well as the Nikon exclusive Best Shot Selector, which automatically picks the sharpest or best exposed photo for you. Beginners will also appreciate the S1's in-camera help system for figuring out what those menu options mean."
From everything I've read about this camera, I'd have to advise anyone to pass on this one, and I'm a Nikon user.
Click to read the full Nikon Coolpix S1 digicam review...