Sony's new
Cybershot DSC-W7
has a more rangefinder-style than other Cybershots, with a compact size for easy travel. Most of the functions and the 3x zoom lens and small built-in flash are the same as (or at least very similar to) those on the W1 it replaces, and the camera also offers the same 2.5-inch color LCD monitor. However, the Sony DSC-W7 has a larger 7.2-megapixel CCD for capturing high-resolution images, and 32 megabytes of internal memory so you can use it without a memory card. Small-but-not-tiny, full-featured digital cameras seem to be a particularly popular category with Imaging Resource readers, and the Sony DSC-W7 fits squarely in that "sweet spot" of the market. Very compact (and solidly built), the Sony W7 stops short of being too small for people with larger hands and fingers.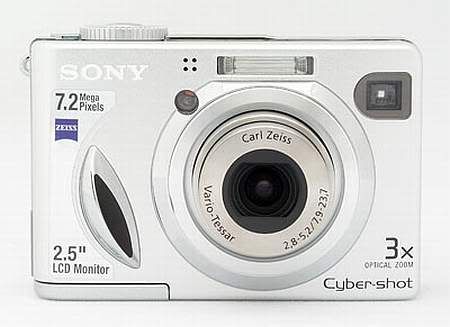 The Imaging Resource has a review of the W7 up ( see link below) and have this to say-
"The Sony DSC-W7 is a nearly identical follow-on to the preceding (and extremely popular) DSC-W1 model, the main differences being a larger 7.2-megapixel CCD, 32 megabytes of internal memory, and a couple of extra exposure options. Like the W1, the Sony W7 provides more manual exposure control than most compact models permit, yet is easy to use in full-auto mode, and its seven preprogrammed scene modes help with tricky subjects. The large 2.5-inch color LCD monitor is excellent for framing and reviewing shots, and the overall design and layout of the W7 is user-friendly and hassle-free. If you're looking for a great "take anywhere" camera with great versatility and excellent color and tonality, the Sony DSC-W7 deserves strong consideration."
Click to read the rest of this article...