The
Samsung Digimax V700
is Samsung's second attempt to break into the top end of the compact market with a feature-packed yet very keenly-priced 7 megapixel model, and the first to be available worldwide. Samsung, one of the world's largest manufacturers of everything from heavy industrial machinery to TFT screens, dishwashers, mobile phones and of course, cameras. Equipped with a Schneider-Kreuznach Varioplan zoom that covers from 38 to 114 mm, the V700 is able to handle subjects that go from scenery and landscapes, to portraits and to not-too-distant subjects.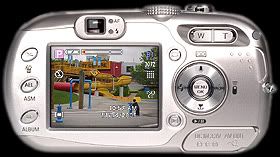 Samsung Digimax V700
Megapixel.net today posted their review of the Samsung but since they don't provide a verbose summary, I have here a small screenshot of the ratings they give to it-
Click here to read the full review of the
Samsung Digimax V700
.