The
Samsung Digimax V700
delivers 7.1 Megapixel high resolution images with enough high quality detail to print poster size. It comes with a 30x (3x optical, 10x digital) zoom with world renowned Schneider lens, high-speed shot capture and is equipped with a 2.0-inch LCD screen. The
Samsung V700
supports MPEG-4 video recording of movie clips in VGA at 30 frames per second.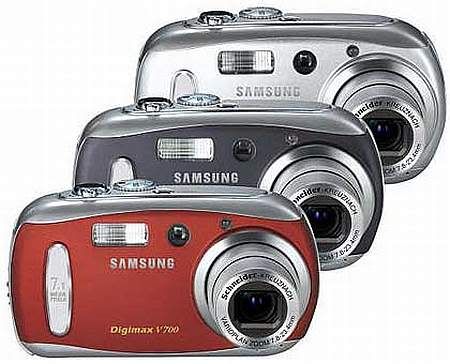 Samsung Digimax V700
DPReview have reviewed the Samsung Digimax V700 and have this to say about it-
"The V700 is the first Samsung camera we've ever tested on dpreview, and to be honest we were fairly sceptical that a camera offering so much at a price well below similarly-specified cameras from the mainstream manufacturers could possibly deliver on its promise. So does it? In a word, partially. In many respects the V700 can hold its own when compared to significantly more expensive models such as the Canon S70 or Olympus C-7000Z. It has a very comprehensive set of photographic controls (which aren't hidden away in menus), a good lens producing superb resolution and a well-rounded feature set that combines user-friendly 'point and shoot' ease with proper enthusiast control. It also produces bright, sharp results that make very appealing prints, though purists will find that even after tweaking the various parameters the images are a little too 'over processed' (and a little noisy) for their liking.

All that said the only serious problem I have with the V700 is the ridiculous shutter lag (circa 0.3 seconds), which won't make a blind bit of difference when shooting scenery but precludes any kind of action photography (as does the rather uninspiring burst mode performance). Every other aspect of the camera's operation is actually fairly snappy, and it certainly doesn't feel 'slow' until you actually press the shutter."
Don't go just on that though, here is the full review of the
Samsung Digimax V700