PENTAX recently introduced the
OptioWP
, a compact digital camera that features JIS Class 8-equivalent waterproof performance and has a body only 22mm thick. The new
OptioWP
also features a 2.0-inch LCD monitor, a 3X optical zoom lens and the imaging power of 5.0 effective megapixels.
Developed in line with the three keywords, "Sportiness", "Elegance", and, "Leisure", the
OptioWP
provides the user with the advantage of waterproof performance that enables confident shooting during a range of water sports. And unusually for a camera with such sporting capability, the OptioWP also has surprisingly sophisticated styling that makes it ideal for use on practically any kind of occasion.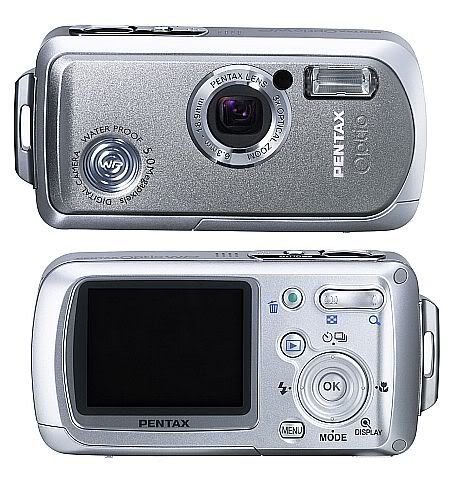 DigitalCameraInfo has review this digicam and has this to say-
"While not intended for the fully manual control market, this sleek and small camera fits perfectly into the pocket of any traveling consumer wherever they go, regardless of rain or snow. This camera can operate free of the bulky and cumbersome add-on protective cases that other manufacturers sell in an attempt to waterproof their cameras. This camera comes with a moderate 1/2.5 inch 5 MP CCD and a 3x optical, 4x digital zoom lens. Its 2.0-inch LCD is large considering the petite and slender overall form of the camera, but the low pixel count of the screen displayed a poor overall image that is difficult to see in daylight, let alone underwater. The OptioWP can record in six still image settings and two movie settings, which offers some shooting versatility to the traveling vacationer. But if having a waterproof camera isn't essential, then this camera doesn't really seem like a sensible option. It is very much suited to its niche market: point-and-shooters who are looking for a smaller camera that can function in waterlogged situations. For these users, this camera is perfect; take it on the road, slip it in a pocket, and don't worry if it gets left out on the balcony in the rain or gets dropped into the bathtub. It will still come out working and looking great."
Click here to read the full review...