Pentax announced three new
Optio
digital cameras today: the S5z, the S55, and the S45. All three share a number of features including a 3x smc Pentax zoom lens equivalent to 36.5 - 107mm on a 35mm camera, as well as SD card storage, and a 2.5" LCD display with 115,000 pixels (but no optical viewfinder). The $350 Optio S5z is an ultracompact model with a five megapixel imager, and includes 9.3MB of built-in memory. The S55 ($300) and S45 ($230) share a compact body with image sensors offering five and four megapixel resolutions respectively, and both offer 11MB of built-in memory. The S5z draws its power from a proprietary D-LI8 Lithium Ion rechargeable, while the S45 and S55 both accept either disposable or rechargeable AA and CR-V3 cells.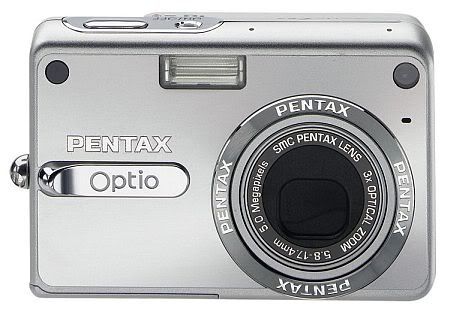 The PENTAX Optio S5z is the fifth iteration in the most popular compact and lightweight PENTAX digital camera series. Like its predecessors, the Optio S5z is loaded with features and boasts a 2.5 inch monitor to optimize image composition and playback. With a 3X optical zoom and the power of 5.0 effective megapixels, the Optio S5z features an aluminum alloy exterior and a rounded corner design and rubber grip. Measuring just 3.3 x 2.2 x 0.8 inches and weighing only 3.7 ounces (without battery), the small size of the Optio S5z is made possible through the innovative PENTAX Sliding Lens system that moves the powerful lens up and away as it retracts into the camera.
"This S series of Optio digital cameras that are as small as an Altoids® tin continues to be one of our most popular digital cameras," said Ned Bunnell, director of marketing, PENTAX Imaging Company. "Stylish, compact and full-featured, this series is the benchmark for the go everywhere digital user." The PENTAX Optio S5z will be available for under $350 US.
Two more PENTAX digital cameras have been announced that follow in the no experience required tradition that makes digital a little less daunting for newcomers. The PENTAX Optio S55 delivers powerful 5.0 megapixel resolution, a 3X optical zoom and a 2.5 inch LCD monitor. Easy to understand and use, the Optio S55 features a Help mode that displays function explanations to reduce operating manual dependency. The Optio S55 will be available for under $300 US.
The third PENTAX digital is the Optio S45, a compact digital camera featuring 4.0 megapixels, a 3X optical zoom and a large 2.5 inch LCD monitor. With the large monitor that simplifies composition and playback, the Optio S45 is well suited to any user. The Optio S45 will be available in limited distribution for under $230 US.
PENTAX also will ship the latest compact, lightweight 4X telephoto zoom DA lens for use with digital SLR cameras. First announced at the Photo Manufacturers Association (PMA) trade show in February 2005, the smc PENTAX-DA 50mm-200mm F4-F5.6 ED is developed for exclusive use with PENTAX digital SLR cameras for both mid-range telephoto applications and serious long-range applications. Mounted on the PENTAX *ist D or PENTAX *ist DS, this lens offers focal lengths equivalent from 76.5mm to 306mm (in the 35mm format). This wide coverage is ideal for a variety of telephoto applications, including portraiture, sports and scenery. The lens will be available at $300 US.
PENTAX Imaging Company is an innovative leader in the production of digital and film cameras, scopes, eyepieces, binoculars, lenses, mobile printers, scanners and internet cameras. For more than 80 years, PENTAX technology has developed durable, reliable products that meet the needs of consumers and businesses. With corporate headquarters located in Golden, Colorado, PENTAX Imaging Company is a wholly owned subsidiary of PENTAX of America, Inc. For more information:
www.pentaximaging.com
Click here to read the full article...