Another review of the
Panasonic Lumix DMC-LZ2
today, this time from Steve's Digicams. The Lumix DMC-LZ2 is one of 2 Lumix cameras that share identical bodies and characteristics, including a stabilized 6X zoom. The other, the
DMC-LZ1
, is equipped with a 4 megapixel CCD, while the one reviewed here provides a 5 megapixel image size. The DMC-LZ2 can be powered by two AA alkaline or two rechargeable nickel-metal hydride (Ni-MH) batteries. Included are two Panasonic Oxyride batteries that allow you to take up to 235 photos. Alkaline batteries let you take about 175 photos and nickel-metal hydride batteries allow up to 390 photos. The built-in memory holds up to 14MB of image data, which can be greatly extended with an optional SD Memory Card. You can also use the built-in memory like a photo album to keep and view your favorite pictures on the camera's LCD monitor anytime you like.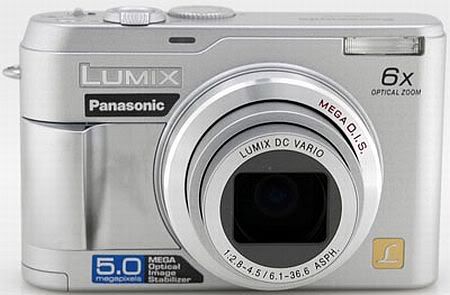 Here is what Steve's has t say-
"Panasonic's Lumix DMC-LZ2 is an interesting alternative in the entry-level digicam market; its combination of a 6x optical zoom lens, 5-megapixel resolution and image stabilization is unique in the under-$300 category. This is a point-n-shoot that can be used by any member of the family, but the results in any of its automatic modes can be compromised by image noise if the camera chooses a sensitivity higher than ISO 100. With a street price of under $300, its combination of features seems compelling, but you'll need to limit ISO to 100 or 80 to realize its best results. If you like the LZ2's features but prefer to spend a bit less, consider the Panasonic LZ1; you'll get 4-megapixels of resolution, no audio recording with your movies, less image noise in its ISO 64 setting, and more robust continuous shooting for $50 less."
Click to read the rest of this review...
Interested in the
LZ1 instead? Steve also reviewed it here.