Today, Steve's digicam's has posted reviews of the Panasonic Lumix DMC-FZ5 and the DMC-FZ4. The FZ5 is the 5-megapixel digital camera with a high-quality Leica 12x optical zoom. The Leica DC Vario-Elmarit 12x zoom is equivalent to a 36 - 432mm zoom on a 35mm camera with a F2.8 to F3.3 maximum aperture. Here is what Steve has to say about this camera-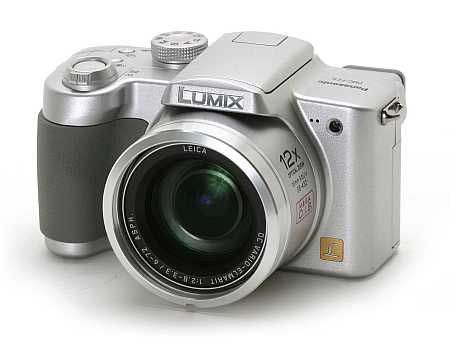 "The most prominent feature of the FZ5 is its 12x Leica Vario-Elmarit zoom lens, with a focal length coverage of 36-432mm in 35mm equivalence. Anyone who has used a digicam with a long focal length zoom knows that these lenses really add to the overall "fun factor" of using a camera, allowing them to bring distant subjects closer and capture sports action across the playing field. But the longer the focal length, the more susceptible images are to blurring from camera shake. Non-stabilized cameras with high power telephoto lenses require the use a tripod or a faster shutter speed to overcome the camera-shake issue; the rule of thumb is to use a shutter speed no slower than the reciprocal of the lens focal length, 1/400 second when using a 400mm lens for example. Depending on the lighting conditions, a high ISO setting might be required to use a high shutter speed, compromising image quality (noise) to avoid blur.

But that's not the case with the FZ5; its optically-stabilized lens reduces the effect of camera-shake when using its telephoto capabilities, allowing you to capture blur-free images at slower than normal shutter speeds. In fact, I was able to consistently capture sharp hand-held images at shutter speeds as low as 1/60 of a second at full telephoto, and a high percentage of shots at even lower speeds. With the FZ5's Mega O.I.S (Optical Image Stabilizer) feature, you'll be more concerned with subject movement than camera shake at low shutter speeds. This remarkable lens is also fast, with a wide angle aperture of f/2.8 and a telephoto aperture of f/3.3, further enhancing your ability to capture sharp images in marginal lighting conditions. I noticed an average amount of barrel distortion at full wide angle and slight pincushioning at full telephoto. Chromatic aberrations (purple fringing on highlights) were well controlled, surprised to see that there was very little chromatic aberration (purple fringing on highlights) in high-contrast areas."
If you are considering buying this digicam it would be well worth your time to check out Steve's full review.
Click here to read the full review...