Panasonic Japan has today announced an update to its existing DMC-FX7 digital camera.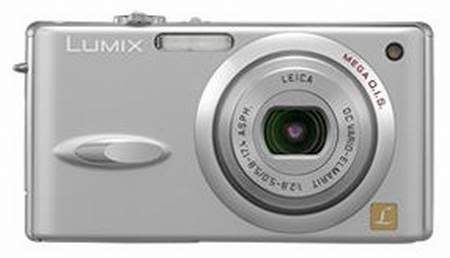 The Panasonic Lumix DMC-FX8 features a similar five megapixel imager and Leica DC Vario-Elmarit-branded optically stabilised 3x zoom lens as the previous model. The FX8 uses the new Venus Engine PLUS and a new battery, which together offer a claimed twofold improvement in battery life, as well as improved autofocus performance (including a new high-speed 1-point AF mode). There's also improved movie performance courtesy of a tweaked image sensor that now offers nine-pixel mixed readout. The camera body has also been restyled slightly. As with the FX7, the new model will be offered in four color schemes for the Japanese market - "Silky Silver", "Comfort Blue", "Misty Pink" and "Gross Black" (perhaps a little something got lost in the translation, but we're actually quoting Panasonic on the names).
The DMC-FX8 boasts high picture quality, large LCD, compactness and stylish design, all those desired for a compact camera. Not only that, FX8 also incorporates the highly commended MEGA O.I.S. while extending the battery life over two times as long as that of the previous FX7, by increasing the included lithium-ion battery capacity by 162% and adopting the power-saving Venus Engine PLUS. In addition, bright and clear VGA moving picture is recordable at 30 fps thanks to the 9-pixel mixed readout method of new CCD and you can enjoy playing back it with audio on the large LCD. Also, quickened AF speed and the addition of scene mode help screen and three new modes help upgrade the model allowing every user to enjoy taking high quality picture more easily and more comfortably. Like FX7, FX8 also has its color variation in silver, black, blue and pink, each with a specially coated texture pleasing to touch. DMC-FX8 is the alluring stylish and compact model that carries all the favored advantages while overcoming the weakness of FX7 to meet customers' demands.
Click to read the rest of this article...