For the serious to advanced amateur, the Olympus C-7070 WideZoom might be just the ticket these days. Housed within a distinctively professional-looking rugged magnesium black body, the
Olympus Camedia C-7070 Wide Zoom
is choke-full of features and yet can be point-and-shoot easy to use in Auto and Programmed Auto modes.
Featuring 7.1 megapixel resolution, an excellent wide-angle coverage (27mm), and a 4x optical zoom, the
Olympus C-7070
provides the capability to capture an expansive vista as well as pleasing portraits. A Super Macro mode takes you as close as 3 cm (1 in.) to your subject to explore the world of the small. Image quality is very good, with CA sometimes present in high-contrast shots.
The
Olympus C-7070
won't easily fit into your pockets, but may be just compact enough to slide into a large coat/jacket pocket and its 420g (13.5 oz) weight gives it a hefty and rugged feel. It's heavy in comparison to the compacts and ultra compacts, but feels light in comparison to a dSLR.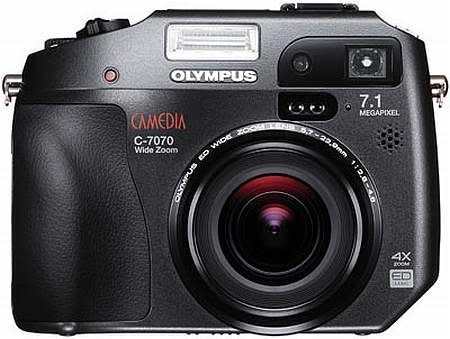 Photoxels reviewed this camera recently and had this to say about it-
"The Olympus Camedia C-7070 Wide Zoom is a beauty in its all-black magnesium body, with a distinctive tall shape. It has a rubberized handgrip that molds well in your right hand. It looks rugged, feels quite hefty (especially if you are only used to the compacts and ultra compacts), and does require two hands to operate. There are lots of angles, curves and indentations, but it's all well designed and ergonomic. The major attraction is the 27mm wide-angle lens which allows you to include more in your landscape and group shots. The Olympus C-7070 has without doubt been designed with the advanced amateur/professional photographer in mind, with more features than you'd probably ever use.

Image quality is very good with good detail and very low noise at ISO 80 and ISO 100. ISO 200 is quite usable, with ISO 400 requiring some noise reduction post processing. There is CA (purple fringing) in some of my everyday high-contrast shots, but not in all of them."
Click to read the rest of this review...