For all of you who are chomping at the bit for more information on the
Nikon D50
, we have some news today. The D50 has the appearance of the D70, the major physical differences are size, weight and control layout. Under the skin the D50 has the same six megapixel CCD sensor as the D70 which I use. The D50 will be available in black and silver bodies and as a kit with the new AF-S DX 18-55 mm lens.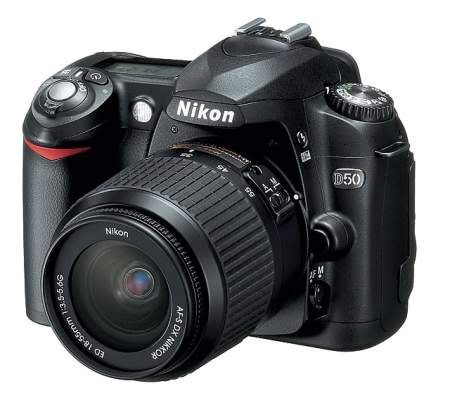 The Imaging Resource have published a "First-Look" type of review up on their site. Here's what they say-
"Nikon and Canon have been fierce rivals in the photo business for decades now, and the advent of the digital era has only intensified the competition. Of course, this is nothing but good news for the consumer, as the battle between these two rivals (not to mention the rest of the growing pack of manufacturers), has resulted in a continuing stream of innovation and cost-cutting. The latest result of this process is the new Nikon D50 digital SLR, delivering most of the features that made the D70 such an exceptional product, but at a lower price point and with the camera's size and user interface retooled somewhat to better match the needs of the "family photographer." - Or anyone else who wants a feature-rich, easy-to-use, compact (but not too much so) digital SLR for a bargain price. Final judgement will have to wait until we can get our hands on a production sample, but if the Nikon D50's image quality is on par with the rest of the camera, this should be another big winner for Nikon. There's just an awful lot to like here, from the just-right grip size that will feel comfortable across a wide range of hand sizes, to its excellent ease of use in "green zone," to its a complete feature bound to appeal to more advanced users. If its image quality measures up, this is going to be a very, very popular camera."
Click to read the rest of this review...