The
Nikon COOLPIX 5600
is designed to appeal not only to beginners of all ages, but also to people who've never even considered buying a digital camera before. With a redesigned graphic user interface that lets the user navigate functions by either name or icon, they enable the total beginner to find the right mode at the right moment to achieve pleasing results time after time. There is also a handy new "Help" button that displays a straightforward description for each selected function on the main menu. The COOLPIX 5600 also feature a large 1.8-inch LCD monitor too with increased brightness — making it easy to compose shots and view recorded images at any time.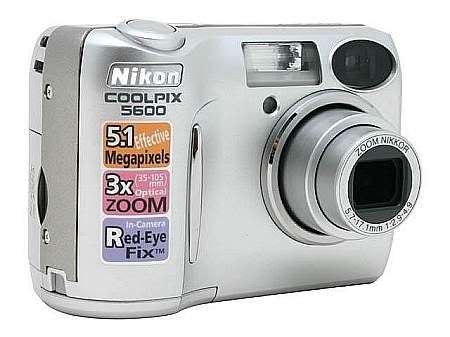 Pocket-lint.co.uk
have posted their review of this digicam and had this to say-
"It's very easy to use as a result with the on/off and shutter buttons gracing the tiny top plate and a single mode dial on the back offering the cameras (fairly standard) shooting options. A great optical viewfinder sits next to the mode dial, as does the camera's 3x zoom lens control, which drives the optics through their 35-105mm focal range. The lens is however not particularly fast having an f/2.9 to f/4.9 maximum aperture range meaning at full zoom you need to keep the camera very steady as it also has a limited sensitivity range from ISO 50 to 200 controlled automatically.
...
The Nikon Coolpix 5600 is let down by a slow flash recycle rate and metering issues. However, it's very easy to use, a good price and is able to produce some super shots in ideal conditions."
Click to read the rest of the Nikon COOLPIX 5600 Review...