The
Nikon 4600 digital camera
sports a a 1.8-inch color LCDs, 4cm macro function and a 3x zoom and features Nikon's D-Lighting function, which, when selected in playback mode, can compensate for insufficient flash or excessive backlighting as well as In-Camera Red-Eye Fix and Blur Warning. They also have a newly designed GUI and help buttons that explain menu functions. Menus can be displayed in 11 different languages too.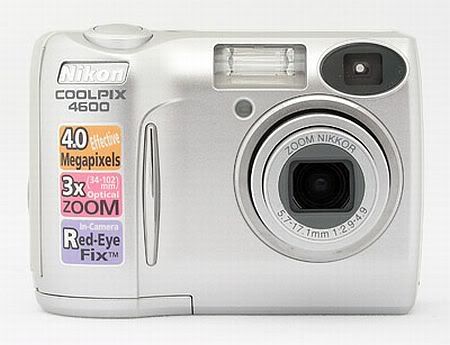 The Imaging Resource have posted their review of the Nikon 4600 and had this to say today -
"Nikon's Coolpix line of consumer digicams has always been well-received, appreciated for their image quality and ease of use. The Coolpix 4600 continues that trend, offering a 4.0-megapixel CCD and nice range of preset scene modes. The Nikon Coolpix 4600 would be a good choice for anyone who wants an easy to use camera that delivers good-looking pictures with pleasing color and plenty of resolution. For those willing to delve just slightly deeper than "just pushing the button," its extensive scene modes and unique framing-assist options greatly extend the camera's capabilities, making it easy to bring back good-looking shots of what might otherwise be difficult subjects. All in all, a good choice for the point & shoot user looking for an easy to use, compact digicam with a surprising range of capabilities. I would liked to have seen much better low-light focusing and exposure capability, less-noisy flash shots at distances greater than 8 feet, and less color left in images shot under incandescent lighting, but the bottom line is that I think a lot of consumers will be very pleased by the Coolpix 4600's photos, and it clearly goes the extra mile with its scene modes and framing assist options to help novice users bring home good-looking photos. The Nikon 4600's "big brother" the Coolpix 5600 just missed being named as a "Dave's Pick," as I felt that the 5900 was a much better deal for a 5-megapixel camera, at only ~$50 more. With street prices well under $200 though, the Coolpix 4600 is such a bargain considering all its features, that I can forgive its low-light limitations and award it Dave's Pick status. If you're looking for a very functional, easy-to-use little camera at a real bargain price, the Nikon Coolpix 4600 could be for you."
Click here to read the full review...